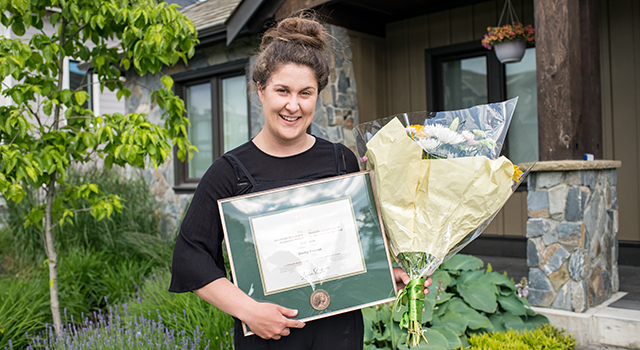 Growing up on a small Yarrow farm planted the seed.
Unwavering commitment bore the fruit.
Now with her incredible 4.24 GPA, Shelby Klassen has earned UFV's 2020 Governor General's Bronze Medal as the highest-achieving student graduating from a diploma program — in this case, Agriculture Technology.
"I've always been passionate about growing food, knowing where my food comes from and caring for animals," she says.
"That made it an easy decision to dive into UFV's Agriculture Technology diploma program after finishing high school at MEI Secondary."
The secrets to her success are simple: passion, hard work, and embracing support.
As with any success story, Klassen didn't achieve this award entirely on her own. With her family behind her, she made sure to soak up every bit of information from her industry-experienced and knowledge-rich instructors.
"The professors were always willing and available to answer questions and encouraged us to think deeper both in the classroom and in the many practical learning experiences we had outside of the classroom," recalls Klassen, who now lives in Abbotsford.
"The agriculture department does an amazing job of giving students a complete learning experience that is not solely lecture based, and can easily be applied to a career in many different areas of agriculture. It really is an amazing field to enter into — there are so many opportunities to explore in the agriculture sector!"
Her advice for those looking for similar success?
Follow your heart.
"I encourage everyone to follow after what they are passionate about. Success doesn't always come easy but it is very rewarding when you put effort and time into learning how to best succeed," she says.
"Being passionate about my program and the courses I was taking also greatly helped. I think that if I hadn't have been interested or passionate about my classes, I wouldn't have achieved the success that I did."
Her talent and work ethic led to a practicum at Van Belle Nursery in Abbotsford, leading to full-time work as their Integrated Pest Management Assistant before moving into the role of Trial Plants Coordinator.
And just because her UFV diploma is complete, Klassen doesn't plan on being complacent.
"I'm really looking forward to continuing to learn while working alongside all the awesome people at Van Belle. My university experience was challenging but incredibly rewarding, and I can't wait to find out where this career takes me."