Shanna Yaroshuk started out her career in the early childhood education field, and looked to the University of the Fraser Valley when she wanted to continue her studies.
"I enjoyed working with children but decided to expand my horizons and go beyond the childcare centre setting."
She enrolled in the Bachelor of Arts in Child and Youth Care degree at UFV, which allowed her to ladder her earlier studies into the program.
She excelled in the program and graduated with a near perfect 4.31 grade point average, which earned her the Governor General's Silver Medal as the top graduate from a bachelor's degree program.
Her third child was one year old when she started the program, and she had a goal of graduating by the time he was ready for kindergarten, which he starts in the fall.
"I liked the program because it was flexible. I could be home during the day with my kids and go to classes in the evening," she notes. "One of the best things about continuing my studies at this stage in my life is that as I was home as a mom with kids it was nice to get out and interact with adults on an intellectual basis."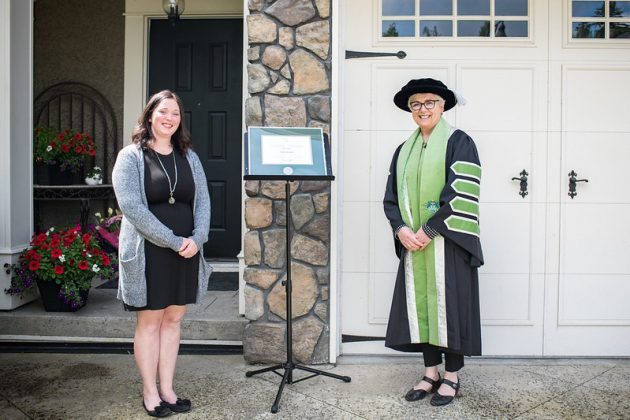 It was also useful to study in the field of child and youth studies while raising her own three children.
"Everything I learned totally resonated with my experience working in childcare centres and raising my own children. My studies also helped me understand my clients' experiences and how to help the families I worked with navigate childhood trauma."
And the program aligned with her tendency to take a strengths-based approach in both her personal and professional life.
Yaroshuk was very surprised to find out that she was the Governor General's Silver Medalist winner, but it was a pleasant surprise.
"I worked very hard to do well so it was nice to get this news."
She learned to take risks and grow as a child-care professional through her experiences.
"In 2017 I had the opportunity to present a paper at an international child and youth care conference. I loathe public speaking, but I took the risk and did it. It was extremely scary, but so neat to be surrounded by so many professionals with a child and youth care background. That experience opened my eyes to so many possibilities."
She credits her professors and her fellow students with helping her to get through the degree program.
"Everyone I went to school with was amazing, and my professors were very supportive. Professor Cindy Rammage met me where I was at, and Professor Mark Littlefield pushed me to step out of my comfort zone. And the program head, Christine Slavik, supported me when I didn't think I would make it through to the end."
Like many other post-secondary students, Yaroshuk experienced a sudden end to her in-classroom studies when the pandemic forced classes to go purely online.
"It was nice not to have to commute from Surrey to Abbotsford, but I was sad not to experience a proper ending with my classmates."
As for the future, Yaroshuk is going to put family first for now.
"I will take the summer to be home with my children, then reset," she says. "In the future I would like to work in a position that supports my passion for supporting families."