Governor General's Gold Medal — Kelly Ridder: interest in youth mental health research led to master's studies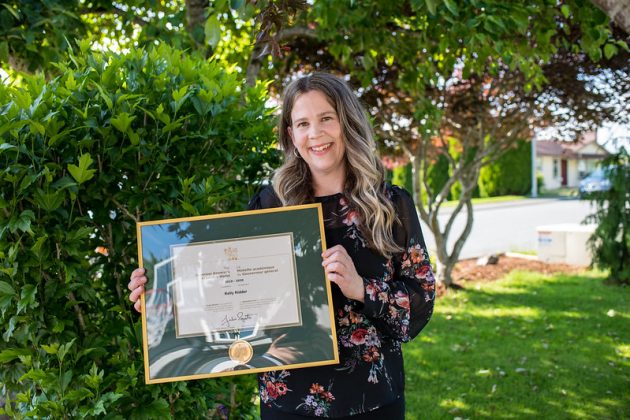 Kelly Ridder knows a thing or two about juggling priorities.
She balanced a full-time job in the human services field with studies toward a Master of Social Work degree over the past 20 months, and with being a mother to six children between the ages of 13 and 25, all still living at home in Abbotsford.
And she did it so well that she earned a perfect 4.33 grade point average. In recognition of this academic excellence, Ridder is this year's recipient of the Governor General's Gold Medal at the University of the Fraser Valley, given to the top student in a master's degree program.
Ridder came to the field of social work because she has always had a passion for social justice and advocacy.
"I have valued and enjoyed my years at UFV, in the Social Services diploma, Bachelor of Social Work and now the Master of Social Work. I have found social work faculty at UFV to be a very inspiring and encouraging group of professors, which motivated me to continue and further my education and learning," she says.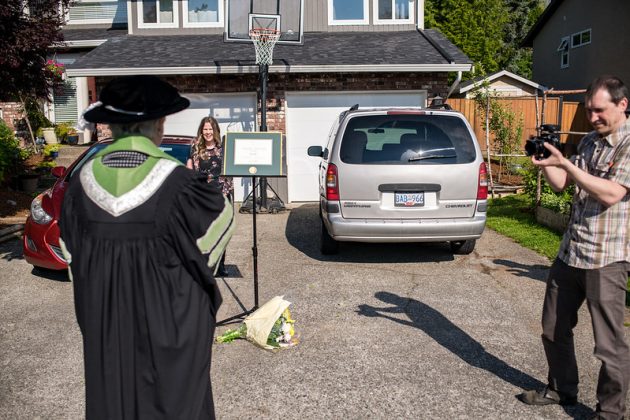 Until recently, she was working as a substance use youth counsellor in the Chilliwack School District. She has now taken a new home-health-care position with Fraser Health, which during a pandemic means donning personal protective equipment in order to visit clients in their homes.
After having worked one-on-one with youth with substance use issues for the last few years, Ridder wanted to further advance her knowledge and skills in the area of mental health.
"There is so often a mental health aspect to the challenges faced by those dealing with substance use issues. The lack of mental health services available to youth was a concern for me. That was my main motivation for enrolling in the MSW program."
In her previous role as a youth substance use counselor in the Chilliwack school district, her work involved counselling and supporting adolescents who were engaging in substance use and often living with mental health issues.
In some cases, the youth experienced a mental health crisis or concern that required them to attend the hospital emergency department for additional psychiatric care and treatment. The youths' experiences with the hospital emergency department and the psychiatric ward highlighted a multitude of issues and concerns which became the impetus for her major research paper.
"My research examined the current practices and responses to adolescents in North America who are seeking psychiatric care from an emergency department. I wanted to further research this area because I wanted to gain a better understanding of the clinical guidelines and frameworks in place when youth present at the emergency department in a mental health crisis. I believe that how we respond, support, and provide treatment for individuals living mental health concerns necessitates further research, and not just for adolescents but adults as well."
Ridder found the small-class cohort-based approach of the MSW program was well-suited to her busy life. The group got together once a month for seminars and worked online for the rest of the assignments and lectures.
"My cohort in the MSW program consisted of a group of passionate social workers who worked in various areas in the field of social work. Unfortunately, due to the current pandemic, we were not able to meet for our final classes and celebrate our accomplishments together."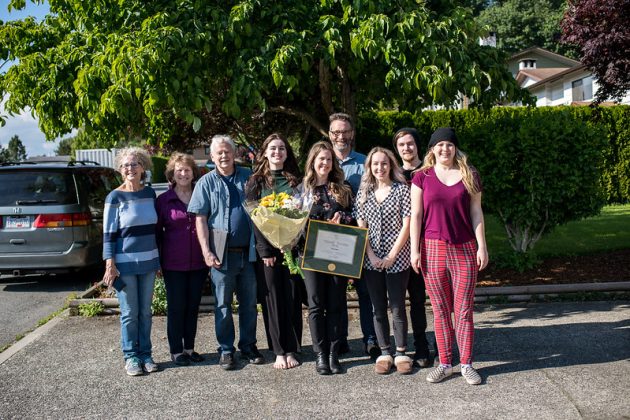 Ridder enjoyed the learning opportunities associated with the rigorous MSW program but had to be strategic to fit her studies into her routine.
"In order to do this, I had to be very structured and organized. I would set my alarm for 5:30 a.m. so I could do a couple of hours of reading and schoolwork before my workday started, and weekends were pretty well all about school work. I am grateful to my husband, children, and family for encouraging and supporting me and allowing me the space to focus on my studies while I was in the MSW program."
It was a nice surprise when she found out that her hard work had paid off with a perfect GPA and the Governor General's Gold Medal.
As UFV's Convocation ceremonies have been postponed due to COVID-19, Ridder was visited at home by UFV President Joanne MacLean in full academic regalia to present the medal.