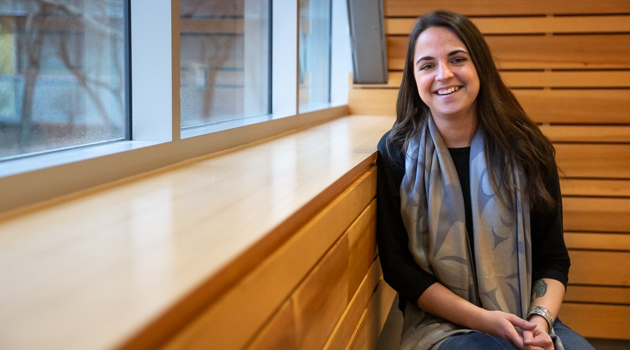 Before schools paused for spring break on March 13, UFV Bachelor of Education student Tsandlia Van Ry was living her dream of becoming a teacher.
She was posted to Vedder Elementary in Chilliwack, close to her Skowkale First Nation traditional home.
Van Ry, who also holds a Bachelor of Kinesiology from UFV, had completed just under half of her certifying practicum and had bonded with the students and families in her Grade 4 class and her teacher mentor, Andy Fast.
And then suddenly, her world changed, due to the COVID-19 pandemic. She agreed to share some of her insights and experiences from the education front lines.
"Ey Swayel mexw wat (hello everyone). I hope that all of my friends, colleagues and connections from UFV are finding ways to stay happy, healthy, and safe during these times of uncertainty. Tsandlia tel skwi:x, Tèlí tsel kw'e Ts'elxwéyeqw, Tèlí tsel kw'e Sq'ewqeyl. (My name is Tsandlia, from Chilliwack, and Skowkale First Nation, on the traditional, ancestral, unceded territory of the Stó:lō people)."
When she left for spring break, Van Ry didn't grasp that she might not see her teacher mentor and students in the classroom for the foreseeable future.
"Over the course of spring break we realized that the likelihood of schools returning to face-face instruction was minimal, due to the need to keep staff and students safe. We waited patiently, as the Ministry of Education and various school districts created action plans for the continuity of learning plans. Then we received the amazing and welcome news that our practicum would continue in an online/remote format and our practicum experience would allow us to continue on our path to graduation."
As schools and districts transitioned to online teaching, Van Ry and her fellow teacher candidates supported their teacher mentors and schools as best they could.
"Our roles as teacher candidates looks different than we expected, but as any teacher can attest, we entered an environment that requires us to be flexible, adaptable and open to new learning," Van Ry says.
"We have had amazing opportunities to explore, and support our teacher mentors and engage with students online. As we engage with teaching in an online format, each of our experiences has been unique and challenging in its own way, but we have managed to maintain strong connections with our other teacher candidates."
And that peer-to-peer connection has proved crucial.
"Staying connected during this time has allowed us to share our experiences and find strength in each other. Our relationship with one another is so important to our well-being as teachers. We have been able to continue supporting our students and schools because of the strength we find in each other."
Van Ry credits UFV Teacher Education department head Vandy Britton with preparing them to be adaptable.
"As Dr. Vandy Britton always says to us: 'We can handle anything as long as we know it's temporary.'  These times are stressful, exciting, demanding and there are many ebbs and flows within each week, but we are taking it day by day and week by week to do the best that we can."
The teacher candidates are trying hard to stay connected with colleagues, students, teacher mentors, and their schools.
"This transition hasn't always been easy, but we are trying to stay connected," says Van Ry.
"Social connection is something that we thrive on, and we have created some very significant relationships. Within my own practicum assignment, our staff has worked together to create videos, pictures, and letters to students to stay connected and remind them that we are always thinking of them. Our Parent Advisory Committee at Vedder Elementary also provided funds to help share gifts with our students. We will be writing letters, and dropping off a small gift to remind our class that we are in this together, and we will be together when this is all over."
And while she can't be together physically with her professors and fellow students at this time, she still feels a strong connection to them.
"I am grateful to the family I have found within the Teacher Education department, and I know that if it weren't for the strong community we have built, this transition would not have been easy. Sending love, virtual hugs, and high-fives to all of my fellow teacher candidates, teacher mentors, and faculty mentors: WE GOT THIS! Tsel ts'íthomé (I thank you)."
Other teacher candidates have also been creative in adapting to the remote teaching environment.
Nellicia Klop started a letter writing campaign between Tyson Elementary, the school where she is placed and some care homes in Chilliwack.
"I have over 200 seniors participating, from various care homes," she reports. "Since the students at Tyson could not keep up with the number of seniors waiting for a letter, I extended the activity to elementary students at Mount Cheam Christian School, where my mom works."
Esra Al-Abduljabar is a teacher candidate in the secondary school setting.
When the education world switch to online learning came along, Esra cranked it up a few more notches. For high-achieving Chemistry 11 students, she has made sure that they are connected, have the materials and lessons available to them, and that she is sharing the content in a way that they can revisit it at any time should they wish. Esra has had to learn how to leverage the technology to make the learning as meaningful as possible.
She produces daily videos, not only to teach concepts, but to impart daily messages, words of wisdom, motivational quotes, and to answer student generated questions. She has also used Microsoft Teams to conduct synchronous and asynchronous learning opportunities.
Naomi Hesketh is completing her practicum in the secondary school setting. She wants to do more than simply teach content; she wants to challenge students to think deeply, critically, and with multiple perspectives.
When the switch to virtual learning came along, Hesketh was quick to develop a plan to address the new reality. In an effort to accommodate the different situations and needs of students, while at the same time engaging them in meaningful learning experiences, Naomi designed a series of activities, presented in an activity board. Each week the students could choose which activities to complete, and had choice in how they would hand them in.