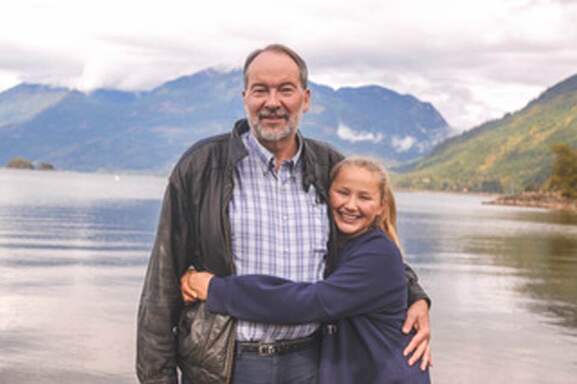 The only thing quicker than Gerry Palmer's wit is his willingness to help improve the lives of others.
An Abbotsford lawyer and long-serving UFV professor with decades of volunteer work throughout the Fraser Valley, Palmer is the recipient of this year's UFV Faculty Service Excellence Award.
"Gerry epitomizes service beyond the classroom or the courtroom," says former Abbotsford mayor George Peary, one of many community leaders behind Palmer's nomination.
"Our community is better because of his tireless efforts. To my mind, Gerry Palmer personifies this award."
Gerry Palmer acceptance video
Only two years after being called to the bar, Palmer's journey as a highly respected business administration instructor began at Fraser Valley College (later UFV) in 1983. Sessional work paved the way to permanent instructor status in 1998.
As vice-chair of UFV's Senate since its inception in 2009, his thoughtful, collaborative qualities helped shape UFV's governance process as the institution transitioned into university status, and beyond.
"I can't think of another member of UFV who has been so engaged, so dedicated, and so effective in their contribution to the social, cultural and economic development of our region," says former UFV President Mark Evered, who nominated Palmer.
"Gerry understands better than most, I believe, that the responsibilities of a university and its faculty extend well beyond the campus. And he has delivered."
While Palmer cherishes his experience with UFV's Senate, he has also served on other boards, often as chair, including Trinity Memorial United Church and Abbotsford Community Services (now Archway).  As 20-year chair for Kinghaven Peardonville House Society, he has overseen an organization that has assisted more than 30,000 men, women and children as BC's largest intensive residential addiction treatment centre.
It all began when as a young lawyer Palmer joined the Lions Club of Abbotsford around 1983.
"They were big supporters of Kinghaven so they wanted a representative on the board. I've been with Kinghaven ever since," he explains.
"Then one thing leads to another, and here we are."
He's been a director of the Abbotsford Downtown Business Association for 17 years and is its current president. As if that wasn't enough, Palmer is also an elected councillor for the Village of Harrison, has received the Order of Abbotsford, and was listed among the Abbotsford News' 100 Most Influential People.
"He is without question one of the community's most prolific and effective volunteers," says Milt Walker, chair of The Reach Gallery Museum.
"As someone who has sat on many boards I am always impressed when new members say 'I learned how to be a board member in one of Gerry Palmer's classes.'"
With home life with wife, Pamela, and children (Andrew, Lauren, Jordan, and Adam) split 70-30 between Abbotsford and Harrison, most people might shy away from constantly volunteering their time — but Palmer sees a bigger picture.
"It's not selfless, its selfish," he says.
"You get to fill gaps that other people aren't able to fill and make a difference for those who wouldn't otherwise have better lives. I've found that I can have huge impact on the community by being on non-profit boards. It allows you to make a greater community impact that you can with your own time and money."
"The best thing I can do if I want my kids to get out and be involved in the community is to get out in the community myself."
His daughter Lauren has attended at least one meeting from every board Palmer sits on, and is involved in supporting her own interests, including Climate Strike Fridays.
Palmer also invested in Abbotsford's downtown core, helping spearhead its remarkable redevelopment.
"For a long time the municipal government wasn't a big fan of the downtown. They wanted the new shiny baubles of shopping centres and malls," he recalls.
"But now they love downtown."
And then there's his impact at UFV.
"I've been able to be involved in decisions I would have never have had the opportunity for as strictly a member of faculty. I think people have a tendency to think of the time commitments, not the impact," he says.
"It's been fine being a lawyer but I don't sit there thinking I conveyed a thousand houses efficiently so I must be some kind of special, but when you have former students come up to you 15 years later and say 'your lessons helped my businesses succeed in ways it wouldn't have otherwise,' that makes you feel pretty good.

Gerry Palmer-isms:

On his accomplishments:
"None of my children have done federal time. I mean they haven't done provincial time either, even though those carry a much lighter sentence. Still, I think they're all quite aware that committing a federal crime would be a major disappointment for me."
On submitting a horizontal photo for publication:
"I had a heart attack last year so I guess you could say I took a good run at it."
On using a professionally edited photo from the Village of Harrison:
"I think we'll use the one where they filled in some hair, removed my third eye, and plucked the unibrow"
On legacy:
"When you look at those things as you're getting older, and I apparently am, you realize you've made a bit of a difference."
---