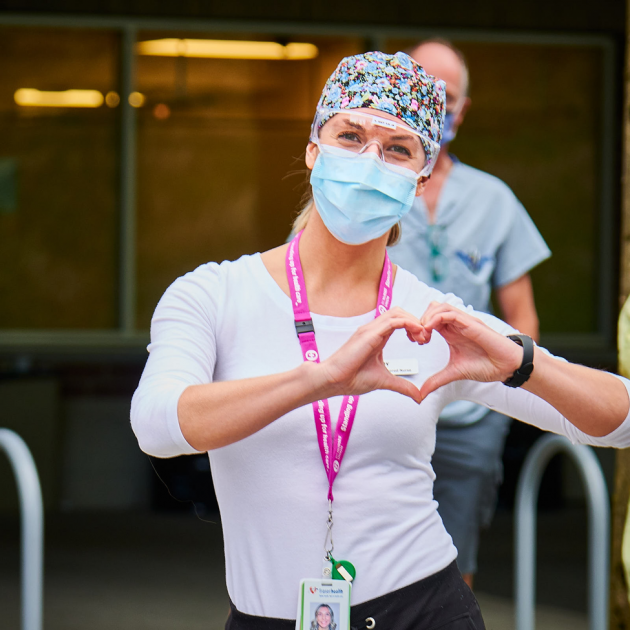 Who would have guessed that the nursing class of 2020 would find themselves working in a pandemic in their first few months of practice?
Amy Mueller and her classmates finished their Bachelor of Science in Nursing at the University of the Fraser Valley this past December, and were due to attend Convocation at UFV in June, 2020. She agreed to share her experience of life as a new nurse in the time of COVID-19.
"I've come to realize that some of my greatest learning opportunities have also been disguised as some of my greatest challenges. Being a newly graduated RN in the face of a pandemic has been no different. June 2020 should be convocation time for me; however, that is currently on pause, as is much of life at the moment!"
Mueller is currently casually employed with Fraser Health on an inpatient surgical unit, in addition to working for the Public Health Agency of Canada as part of the federal COVID-19 response.
"As a newly graduated RN, I have come to realize discomfort is the norm. At the beginning of 2020, I was filled with excitement, stress and anxiety as I anticipated starting my new career as an RN and writing the NCLEX (nursing competency exam). As those feelings came and went, I was faced with new responsibilities and a new role, both of which take time to adjust to. Shortly after I completed some of my first 'solo' shifts as an RN, the COVID-19 pandemic was declared."
Like many of us, Mueller didn't initially appreciate the gravity of the situation.
"Initially, many of us laughed at the memes that filled the Internet and joked about the scarcity of toilet paper. Quickly, we realized the reality of the situation, as new information became available. Within days, life turned upside down. We received daily emails on personal protective equipment requirements, new protocols, screening measures, and a multitude of other things. It was clear the situation was changing faster than anyone was comfortable with. As a new grad, the overall sense of uncertainty felt especially heavy. Not only was I fairly new and questioning well, everything… now I was new and also facing something no one else before me had. While this was an uncomfortable thought, I found comfort in knowing we were navigating uncertain times together."
Knowing that there were real people behind the daily statistics hit Mueller hard.
"There were a number of tough days as this all began to unfold. The enormity of the situation weighed heavy as we heard the daily updates in B.C., Canada, and across the world. It hit especially hard when I sat back and considered these 'numbers' were not numbers at all, but human lives, something I think a lot of people forget."
She turned to experiences she gained through her UFV nursing education to give herself strength and courage.
"As I started to embrace the discomfort that permeated life both as a new grad and in the face of the pandemic, I began to draw on courage I had found in other parts of my life. I drew on my experiences throughout nursing school; from being a new nervous student, to completing and succeeding in preceptorship. From travelling to Sierra Leone as part of the UFV Global Health elective to witnessing the challenges but also the resilience of the people there. From overcoming my own personal challenges to succeeding in my goals. At some point I realized, this pandemic was also going to be an experience my future self would look back on and draw strength from."
The Fraser Health Authority called out to nurses to complete 'upskilling' in anticipation of High Acuity and Intensive Care units requiring extra support with a potential increase in patient numbers.
"I responded to the call out quicker than my brain actually could comprehend and shortly after found myself completing online modules and learning about an entirely new realm of nursing. A couple of times I stopped myself and wondered what I was doing, diving into uncertainty, in the face of so much uncertainty… But, I wanted to help in whatever way I could to support my peers and colleagues and serve the people of our community."
Just prior to volunteering to upskill, Mueller applied to a Government of Canada posting looking to create a nurse inventory for a potential COVID-19 response. She encouraged a close friend of to also apply. Now three recent UFV nursing grads are employed with the Public Health Agency of Canada, contributing to our country's COVID-19 response.
"Luke, Jasmine and I graduated together in December. Almost one year ago we also all travelled to Sierra Leone. I would truly be lost without our group. I couldn't imagine navigating these uncertain times with anyone else. We have all been through a lot together."
Mueller is still wrapping her head around the fact that she's launching her nursing career during a pandemic.
"If you asked me what I thought I would be doing within the first six months after finishing nursing school, in my wildest dreams I couldn't have imagined this would be it. I believe the journey of nursing school and every instructor, classmate and experience along the way prepared me for what is now reality. To this day my instructors (many of whom who are now my colleagues) continue to inspire me. I look to them for support and take comfort in knowing they are incredible nurses themselves and while I may not feel ready for the reality of life, they believe I can handle what comes my way."
And she has some advice for those who are struggling.
"At this time there is so much uncertainty in the world. If you are feeling especially heavy, please know you are not alone. These are uncertain times. Give yourself grace. When you are questioning if you can keep going, remember you can. Take a deep breath. Believe in yourself. Be confident in what you know. Embrace challenges. Ask for help. Seek out learning opportunities and always remain as positive as possible.
"I am incredibly thankful to be apart of such an incredible profession and I look forward to all that this career has in store for me. Happy Nurse's Week to all of my friends, family, classmates, colleagues, instructors and all of the future nurses I will one day work alongside!"