UFV students' CityStudio Abbotsford Hubbub goes virtual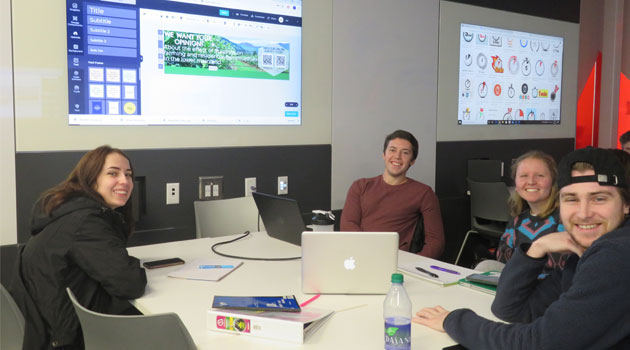 Twice a year, UFV students involved in the CityStudio Abbotsford partnership bring their projects to City Hall for Hubbub, a combination show-and-tell and a community building event.
Groups from participating classes show off a semester's worth of work on a project designed to address a real, practical challenge presented to them by the City of Abbotsford. There's a People's Choice Award and a Grand Prize winner chosen by a panel of judges selected by CityStudio organizers.
A signature event for both UFV and the CityStudio Abbotsford, the HUBBUB is a project showcase that brings together UFV students to share their CityStudio projects, findings and recommendations with City of Abbotsford staff, peers, faculty, and community members.
As the name "Hubbub" suggests, this is usually a busy, crowded event.
The challenge is, this year, that's not possible, due to restrictions in reaction to the COVID-19 pandemic.
So Hubbub is going virtual. This change became possible due to the City of Abbotsford's dynamic response to the need for rapid transition from an in-person to a remote delivery of programming in the post-secondary education.
"Our joint CityStudio team picked up on the energy and enthusiasm of the students' research teams throughout this semester and carried on the tradition of organizing the Hubbub, this time virtually," said UFV Experiential Education Coordinator Larissa Horne, who oversees the CityStudio initiative on the university's side.
"Staff from the City of Abbotsford built a special interactive Hubbub website to not only familiarize the City staff with the projects' outcomes but also showcase our students' work to the entire community, through their posters and video pitches. I hope this new method of collaboration in experiential learning will further highlight the role that the higher education plays in the community,"
This semester's Hubbub showcases the accomplishments of 105 students who worked in research groups to meet four important civic challenges. Geography Cherie Enns' students took on the subject of climate adaptation and proposed a variety of innovative local solutions. A class of senior political science students were led by their professor Fiona MacDonald through a process of scientific inquiry in the field of and personal reflections on the subjects of diversity and multiculturalism in Abbotsford. The Geography and Communications classes taught by Mariano Mapili and Paul Fontaine tackled a long-standing local issue of  European starling management, in relation to blueberry crop loss prevention. Their experimental research led them to experience the capabilities of drone technology and offered a hands-on experience in developing public surveys and other real-world communication strategies.
These experiential activities far exceeded a traditional classroom style of learning, Horne notes.
Finally, two of Dr. Sharon Gillies' senior Biology students carried on research and experimentation in eradication of Japanese knotweed, a type of invasive species that is prevalent throughout the Fraser Valley.
Everyone is invited to drop in to the virtual Hubbub. On now until April 30. https://letstalkabbotsford.ca/citystudio-virtual-hubbub
Vote for your favourite project and leave a comment for the Photo Voice Gallery on Diversity and Multiculturalism.
For more information, contact Larissa Horne at larissa.horne@ufv.ca