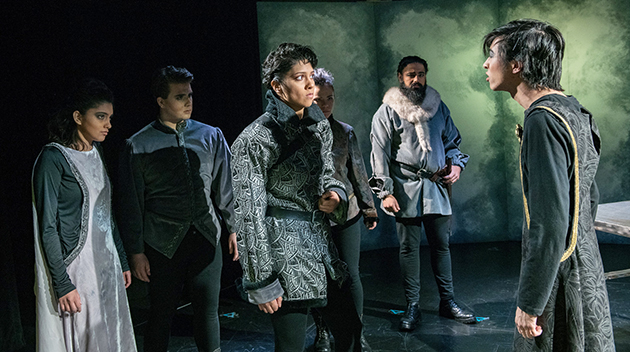 University of the Fraser Valley Theatre and the School of Creative Arts present the second production of their 2019-2020 Season of Theatre, Richard III by William Shakespeare, adapted and directed by Anna Griffith.
Richard III, by William Shakespeare, raises questions about political corruption and coercion as we follow the story of Richard's violent rise to power. Shakespeare offers a portrait of the ultimate villain; a protagonist who is simultaneously charming and ruthless. The play asks audiences to think about how the characters around Richard are complicit in his bloody maneuvers onto the throne and offers insight about the contemporary political moment.
Anna Griffith is an interdisciplinary performer and director, and an assistant professor of theatre at UFV who is interested in exploring a multimedia version of Shakespeare's ultimate villain and the people who helped him get there. Griffith shares how she's bringing a new edge to the story.
"In this production we are exploring how each character is complicit in assisting Richard getting to the throne while simultaneously fighting for their own survival. The themes of power and persuasion are very relevant in the contemporary political moment. Another new aspect of this production is the way we play with gender as a construct that is both socially and historically situated. Since our production is a cross-gender cast, we are trying to separate gender from the identity of the characters and shine a light on the performances of masculinity and femininity."'
The cast for Richard III includes Makailla Palliyaguru, Joshua Balzer, Liam Barnes, Joshua Kurucz, Maeggan Palliyaguru, Shiloh Sim, Bhavkaran Singh , James Sloggett, and Kole Stevenson.
Audience experiences will also be heavily influenced by the intricate set design and props. The design team has created a world that feels like a slaughterhouse to visually represent the theme of survival that drives each character. The designers include, Parjad Sharifi (scenographer), Heather Robertson (costume design), Lucy Mulder (hair and makeup design, student) and Steven Bowman (sound design, student). This  production also includes work by Kira Taves (student assistant director) and Luke Pardy (student visual dramaturge).
Anna encourages students and the public to experience the creative, imaginative, and empowering world of theatre.
"Theatre is one of the best places to get hands-on, experiential learning," she notes. "In general, it teaches interdisciplinary collaboration, professional communication, and creative problem solving. The Theatre practicums offer students the opportunity to learn hard skills such as lighting board operation, stage management, props building, and sound design. Our classes like THEA 111, Acting Skills for Work and Life, can enhance your self-confidence and presentation skills, while classes like THEA 203 allow students to learn about history by considering performance and cultural practices."
Richard III runs on the following dates and times:
March 11, 12, 13, 18, 19, 20 at 7 pm
March 14 & 21 at 2 pm
Post-Performance Talkbacks on March 14 and March 20 will give the audience a chance to hear from the actors, the student assistant director, and the visual dramaturge. The talkback will enhance the audience's understanding of the performance and will give them a chance to ask questions about the production.
A microlecture titled "Off with his head," will be offered on Thursday, March 12, at 6:40 pm by UFV English department head Melissa Walter. Doors will open at 6:30 pm and the performance will begin at 7:00 pm.
Please be advised that seating is extremely limited, and seat reservations must be made in advance by contacting theatre@ufv.ca or by phoning 604-795-2814 with your name, number of seat reservations required, and the performance day and time. All performances are pay-what-you-can at the door with suggested prices of $15 for adults, and $10 for students and seniors, cash only. Seats are reserved until 5 minutes before show start time.
Performances will be held in the Performance Studio, Building D, 105, Abbotsford Campus, University of the Fraser Valley, 33844 King Road.
For more info visit: https://www.ufv.ca/plays/
Warning: This production includes adult situations and strong imagery.
Image Credits: Darren Mcdonald, 2020
UFV Theatre's 2019/20 season celebrates the Theatre department joining the UFV School of Creative Arts, which also encompasses Visual Arts, Media Arts and Art History, and offers unparalleled opportunities for dynamic interdisciplinary and collaborative learning, inside and outside the classroom. This season offers a diverse selection of original, classic, and contemporary plays.
The season opened with 'ART' by Yazmina Reza, translated by Christopher Hampton. The show was directed by Parjad Sharifi, an award-winning designer, theatre maker, and UFV Theatre Associate Professor. Sharifi's directorial approach initiated artistic dialogue between Theatre and Visual Arts, and was performed in the UFV S'eliyemetaxwtexw Art Gallery.
The season concludes April 23 and 24, 2020 with the Emerging Director's Showcase, in which UFV Theatre's fourth-year directing class present their final projects that include a wide range of performance styles. Follow the UFV School of Creative Arts on Facebook and Instagram this spring for more details about these engaging student works.