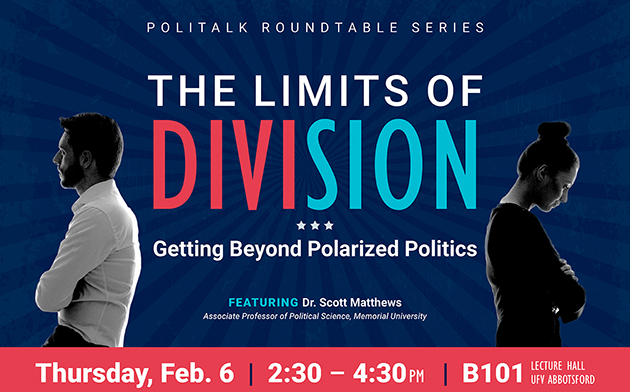 It is a commonplace assumption that the politics of many established democracies have become increasingly polarized. But what does polarization really mean, and what do we know about its sources and effects? Most importantly, can we get beyond polarized politics?
UFV's Politalk roundtable series will address this topic in a free public presentation on Thursday, Feb 6 in room B101 (lecture theatre) at 2:30 pm on the Abbotsford campus. Admission is free and the public is welcome.
Guest lecturer Scott Matthews will briefly review evidence of polarization in Canada and the U.S., and then focus on theory and research that points to conditions that seem to limit, and may even counteract, the trend toward political polarization
Dr. Matthews is an associate professor of political science at Memorial University in Newfoundland.
He studies public opinion and voting behaviour in Canada, the United States, and other established democracies.
Matthews has particular expertise in regards to public policy attitudes and political persuasion and has published widely on these topics in leading political science journals, including the American Journal of Political Science and the British Journal of Political Science. He was a collaborator on the 2011 and 2015 Canadian Election Studies and is an academic co-applicant on the Consortium on Electoral Democracy (C-Dem). Matthews is a past director of the Canadian Opinion Research Archive data centre at Queen's University (2011-2016.
The event will be moderated by Dr. Fiona MacDonald, UFV political science department head.
For more information, contact Danielle Mijo Burch at danielle.mijoburch@ufv.ca