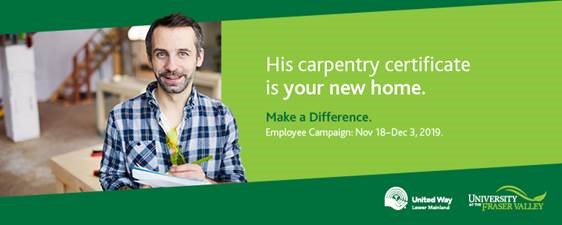 Thank you so much for all you do on behalf of UFV!
To express our appreciation for going above and beyond for our students every day, you're invited to a complimentary breakfast (or lunch).
We also thank you for helping our students with your generous financial support every year. 2019 marks 36 years of partnership between UFV, the Faculty and Staff Association, and the United Way. Together we are supporting vulnerable students in our community.
Employees Make a Difference!
As we enter the season of giving, please consider supporting UFV's Employees Make a Difference campaign. Priorities for 2019 include the UFV Student Emergency Fund, and the United Way's Youth Futures Education Fund (YFEF) which supports youth who have aged out of care. UFV students are among the biggest beneficiaries of YFEF in the province.
To donate please visit www.ufv.ca/makeadifference. You can make a one-time gift or sign up for payroll deduction. All employees who make a donation will be entered in the weekly draw for three $50 gift cards! Winners will be drawn every Friday during the campaign which runs from Monday, November 18 to Giving Tuesday, December 3, 2019.
Breakfast and lunch details:
Tues, Nov 26, Abbotsford campus, 7:30-9:30am, Room B101
Wed, Nov 27, Chilliwack campus (Building A), 7:30-9:30 am, Room H1100 (Atrium)
Wed, Nov 27, Chilliwack campus (Trades and Technology Centre), 11:30am–12:30 pm
Please RSVP to Natalina MacLeod in the Office of Advancement & Alumni Relations. We hope to see you there!!!
Thank you,