Get fit with UFV Campus Rec!
Want to find time for fitness in your busy day? Get fit on campus with a variety of options offered by UFV Campus Recreation!
"We offer a mix of heart-pumping and zen-building classes that will leave participants feeling healthy and happy," says Cheryl Vannes.
Choose from a variety of fitness classes including yoga, spin and strength, Zumba, belly dance, and more!
Classes in Abbotsford this fall include yoga for self-care and yoga for fitness, Zumba, spin and strength, and belly dance.
Classes in Chilliwack include yoga for self-care, dance fit, abs, IHIIT, and power fusion.
UFV Campus Rec also offers drop-in the gym, including pickleball, basketball, soccer, badminton, volleyball, and dodgeball, and access to workout rooms with weights and exercise machines.
Free for students, and affordable for employees and alumni.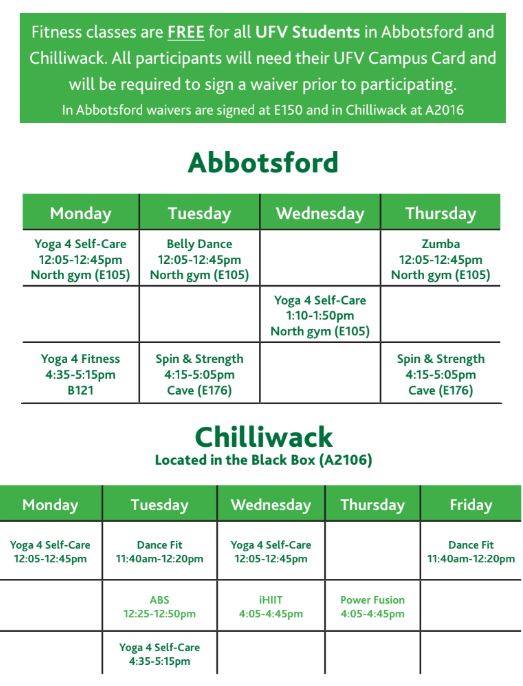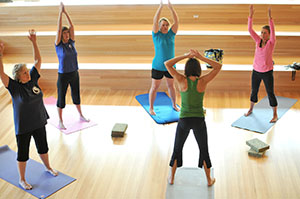 All class are FREE to try, during our "Try Before You Buy Week".  No sign-up required during this week, just come and give a class a try!
How to purchase a Feel Good Pass as an Employee/Alumni/Public:
In Abbotsford: In person at the Abbotsford Client Service Desk (E150) by cash, cheque, debit, or credit card.
In Chilliwack: If you are unable to come to the Abbotsford campus, you can click here to submit a Group Fitness Pass purchase request.
*Important, please note: All participants will be required to sign a waiver before participating in a Group Fitness pass. In Abbotsford, you will need to do this at the time of purchase. In Chilliwack, you will do this when you pick-up your Feel Good Pass at the Client Service desk (Building Q room 102).
How does it work once I have my Feel Good Pass?
UFV Employees, we ask that you "Check-in" by RSVPing on MyCampusLife-Campus Recreation prior to attending your desired class. See rules about checking in for Spin & Strength class.
When you attend a class you will need to show your Campus Card and your Feel Good Pass to the Instructor to gain access. Make sure you don't forget your cards, or you might be denied access.
Cost for Employee/Alumni/Public (per semester):
| | |
| --- | --- |
| Unlimited Pass | $90 |
| 10X Punch Pass | $75 |
| Drop-in (purchased 24 hours before if attending in Chilliwack) | $10 |
| Combo Pass: Single semester Rec Pass and Unlimited Pass | $110 |
Campus Recreation also offers personal training.
Find out more at ufv.ca/campus rec.
Follow @UFVRec on Twitter, Instagram, and Facebook.