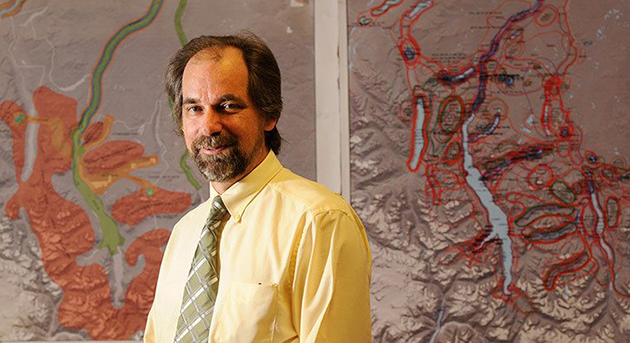 Dr. Ken Brealey, who joined UFV as a faculty member and later served in key senior administrative roles, passed away on August 14, 2019, after a battle with cancer.
Ken is survived by his wife Norma and his three step-daughters.
Most recently, Ken served as acting Associate Vice-Provost, Faculty Relations within Human Resources. Prior to this he was Associate Dean of Faculty in the College of Arts.
Ken joined UFV on a part-time basis in 2002 and took a full-time faculty position within the Geography department in 2005. He served as Geography department head from January 2007 to September 2011, and was the departmental representative at curriculum committees in both the Faculties of Arts and Sciences.
He was a life-long learner and earned his BA (SFU) in 1991, his MA (SFU) in 1995 and his PhD (UBC) in 2002, all in geography.
Ken's research interests focused on Indigenous geographies and the history and practice of cartography.
His applied work revolved around historical geographical and cartographic research for BC First Nations land claim litigation and treaty cases. His meticulous mapping of Tsilhqot'in land use was at the heart of the Supreme Court of Canada's historic 2014 decision granting First Nation land title to 438,000 hectares and setting a precedent for future claims of Aboriginal title throughout the country.
In 2007, Ken received the Tsilhqot'in name ?Elh ?Ul Deni ('he who braids things together') for work on historical cartography for the Xeni Gwet'in First Nation in William v. HMTQ.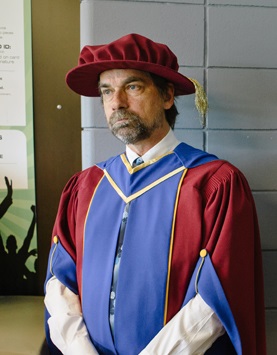 He was especially proud of the Indigenous Maps, Films, Rights and Land Claims certificate, which he helped develop and taught with Hugh Brody,  Dr. David Schaepe, and Naxaxalhts'i (Albert 'Sonny' McHalsie). This intensive four-week certificate applies an innovative and multi-disciplinary approach to the study of the history and geography of Indigenous land claims.
Before completing his graduate and doctoral studies and joining UFV, Ken had a 24-year career with Canadian National Railway.
Ken loved animals and was very involved in contributing to the ethical treatment and care of them. In lieu of flowers, a donation to the SPCA in his name, or a charity of your choice, would be appreciated.
There will be a memorial service in Victoria with a date to be announced and Ken's UFV colleagues are organizing a memorial event at the Chilliwack campus later in September and this date will be publicized.
You can read Ken's full obituary here.