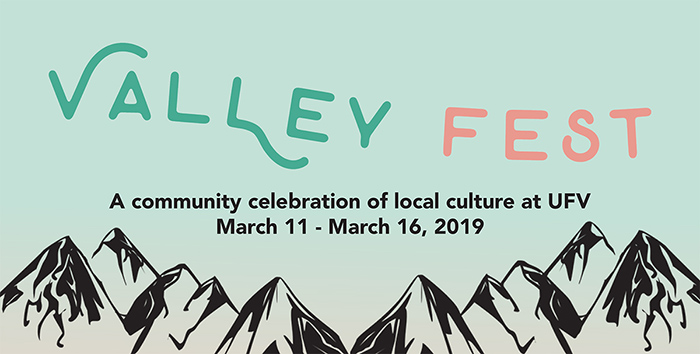 The University of the Fraser Valley will be showcasing creativity and community connection from March 11 to 16 through Valley Fest, a weeklong celebration of local culture and community.
Valley Fest will feature more than 50 events in six days. The public is welcome. Admission is free for most events. The finale dinner on March 16, featuring Carrielynn Victor, Theresa Warbus, Robert Wiersema, and DJ Kookum, will have an admission fee.
"Valley Fest is an exciting opportunity for UFV students, faculty, and staff to engage with members of the Fraser Valley community in an exploration of the rich cultures, traditions, and educational opportunities of our region," notes Miriam Nichols, one of the event's organizers and an associate professor of English at UFV.
Valley Fest will take place in various locations across the UFV Abbotsford campus from 9 am to 8 pm each day. Features include:
Open classrooms (on storytelling, visual communication, modern languages etc.)
UFV's Got Talent competition (March 11)
Bhangra night (March 14)
Riverdale Conference (the second annual semi=academic conference focusing on the Riverdale TV series)
Movie nights
Valley Fest dinner and finale.
"Valley Fest 2019 is about celebrating local culture at UFV and in the community. This event will create an opportunity for UFV students, faculty, and staff to interact with each other and with the Valley communities, and vice versa," says Nichols. "If you've ever wondered what's going on at our university, this is the week to find out. We'll have theatre presentations, a science lecture on climate change, events with an Indigenous focus, poetry readings, an exhibit about the history of South Asians in the Fraser Valley, a Paradise Lost marathon reading, a quilting demonstration, and a guided creekside nature walk, to name just a few items."
This grassroots event grew out of discussions within the College of Arts about ways to increase community engagement. Most of the events this year are arts-related, but organizers are hoping the event will grow and include more events from the rest of the university in future years.
To see the full itinerary for each day, visit the UFV events calendar at http://events.ufv.ca/ and click on the Valley Fest heading for the day you are interested in. This will take you to the full itinerary for that day. Check out all six days!