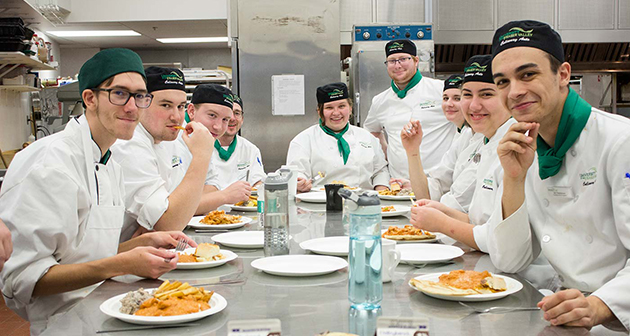 Under the direction of Chef Sian Hurley, UFV Culinary Arts students are about to take on a new challenge and host an upscale bistro at Rivers Dining Room every Wednesday and Friday until May 10.
"Students are entering year two of their apprenticeship," chef Sian notes. "We want to provide them with an opportunity to gain hands-on, real-work experience. Year one focused on gaining skills, and day-to-day interactions with customers in the cafeteria, with special interest in plating and 'human sized portions.' In year two, we foster knowledge of kitchen management practices to lay the foundations for their third and final year."
Rivers Bistro will be open to the public from Apr 3 to May 10, 2019, from 11:30 am– 12:45 pm, every Wednesday and Friday in Rivers dining room at the UFV Trades and Technology Centre in Chilliwack.
Rivers Bistro's menu features both classic and creative selections to appeal to a wide range of palates. To enhance the Bistro's menu, students will also provide a daily fresh sheet. Download the Rivers Bistro's menu as a PDF
Support the 2019 Culinary Arts graduating class: gather your coworkers and come enjoy an exceptional lunch experience at Rivers Bistro.
http://events.ufv.ca/events/enjoy-an-exceptional-lunch-experience-at-rivers-bistro-2019-05-10/