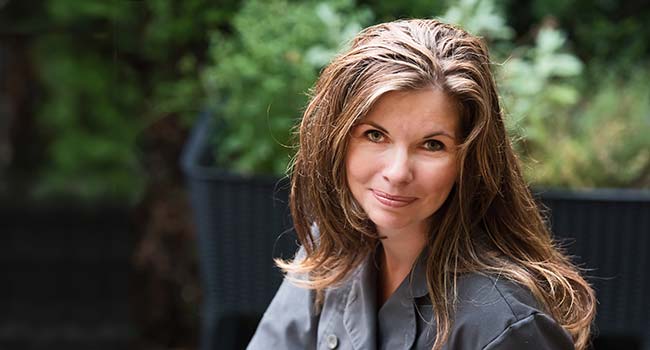 When executive chef Jody Sigurdson-Longo showed her culinary arts class at Rick Hansen Secondary a clip from Chopped Canada, one of her students quipped: "Chef, you could totally win this!"
And that's what triggered Jody to compete in and win the famed Food Network cooking competition in 2015. The episode in which she is featured aired on February 2016.
"It was nerve-wracking," Jody says of the experience. "But it was awesome to win. It set a good example for my students to show them where they can take their culinary training. The network ended up filming some clips at the school, and my students loved it!"
From executive chef to culinary arts instructor
Jody was new to teaching at the time. When her son entered kindergarten, the evening and weekend shifts required of a chef no longer fit with family life. "I could not juggle being a mom and a chef as I had done when he was little," she says, "so I decided to become a stay-at-home mom. That's when the Abbotsford School District phoned. They needed a chef to teach their culinary arts program and the hours meshed well with my son's schedule."
Her day-to-day as a teacher is different than that of a chef, but it is fueled by the same passion: to push the boundaries of her craft and inspire her students to do the same. "A culinary program is a great space for visual learners to own their skills," she says.
Jody credits her mom for inspiring her to become a chef. "My mom didn't cook at all and was happy to let someone else prepare meals," she says. "From an early age, I had the freedom to experiment in the kitchen."
However, when eighteen-year-old Jody announced her decision to enter culinary school, her parents were aghast. "They were hoping I would become a nurse because that's a good, steady job," she recalls. "My dad felt that a culinary profession was risky. He made me research career outcomes and write a report in the hope of discouraging me."
But Jody's persistence eventually won her parents over and she enrolled at Vancouver's Dubrulle Culinary Institute. Upon graduation, she proceeded to complete her Red Seal and gain experience in a series of high-end restaurants in Vancouver. "Many restaurants come to fame on the strength of a food trend," Jody notes. "Chefs have to keep up. That's why my style as a chef is always evolving."
Jody further grew her skills when she moved to Abbotsford and opened her own catering company, Formaggio Fine Foods. In 2013, she became executive chef at the Chilliwack Coast Hotel.
Building on a strong foundation
But for all her versatility, Jody will be the first to tell you that the ability to create freely in the kitchen rests on having a strong foundation. This is exactly what she instills in her students, teenagers and adults alike. "Cooking classes are an excellent way to learn basic principles, practise using equipment properly, and gain confidence in your skills," she says.
Having a hands-on experience beats watching a video any day.
"Your instructor can walk you through a recipe, show you how to do it, and answer your questions as you go," she says. "And if you make a mistake, you can get tips on how to fix your dish."
Be your own chef
When you take a class at the Trades and Technology Centre with Jody, not only do you get to cook with a famous chef in a professional kitchen, but you also enjoy your dish paired with a glass of wine, beer, or margarita afterwards.
Classes with Jody:
UFV also offers a full-time 39-week Culinary Arts certificate for students wanting to become Red Seal chefs.