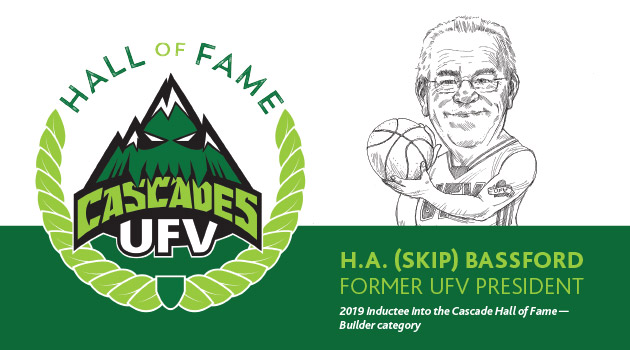 When Skip Bassford joined the University College of the Fraser Valley as its fourth president in 1998, he looked around the campuses and wondered where the gym was. He soon found out there was none.
He knew that UCFV (as it was then known) had some very successful teams competing at the collegiate level in basketball and soccer. He knew that the Fraser Valley was a hotbed of sporting success and support.
And he knew that he wanted to help take the university-college to the next level athletics-wise.
So he added that to his to-do list.
By the time he left as president in 2009, UFV had achieved university status as an institution. And on the athletics side, it had not one but two gyms, and had been accepted into the Canada West conference of the national university sports organization, Canadian Interuniversity Sport (now known as U SPORTS).
Under his leadership, we'd made it to the big leagues.
For his role in leading UFV to greater heights athletically, Bassford will be inducted into the Cascades Hall of Fame builder category by the UFV athletic department at a special ceremony at half-time of the men's basketball game on Friday, Jan 25. The 2019 class also includes two inductees in the athlete category: Derek Fletcher (men's volleyball) and Andrea Wigman (women's soccer). The 1999-2000 national championship-winning Cascades men's basketball team will be inducted in the team category.
Not only was Bassford a leader in advocating for the Cascades, he was one of their biggest fans.
"My biggest personal memory of Skip is the support he gave to us. He was a genuine absolute fan!" recalls longtime UFV women's basketball coach Al Tuchscherer. "Even after he left UFV he showed up at some of our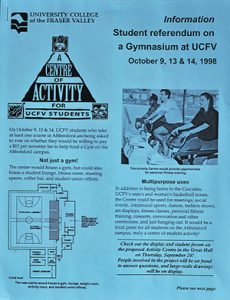 big playoff games. The first time we made it to the nationals at the university level in 2013, there he was in Regina sitting in the stands with Mark Evered. And when I coached my 500th game two years ago, he showed up again to watch."
Bassford also helped secure and raise funds for scholarships for UFV athletes.
"Back in the early days we were run on a real shoestring budget," Tuchscherer recalls. "Other schools has scholarships that they could offer to their top athletes, and we wanted to be able to compete. In order to be eligible to join CIS (now U SPORTS), we had to have a certain amount of scholarship funding for athletes. Skip helped make that happen."
Bassford recalls those early days, and his determination to improve the situation for the Cascades, with fondness.
"I was so surprised that our teams had no gym to play in and that our soccer team was playing across town. It was clear to me soon after my arrival that the Fraser Valley was a big sports hotbed and that our teams were achieving some really good things even without their own facilities.
"It struck me that not having a gym made for a really big gap in what we could make available for our students, both the varsity athletes and the ordinary students who could use it for intramurals, as spectators to our games, and for special events."
The soccer teams still don't have a field on campus, but the Cascades have been happily playing in their own gym since 2002, with the expansion into the Envision Athletic Centre following in 2007.
"I challenged our finance team to squeeze the budget and dig up funding for our first gym. The students agreed to a fee to help pay for it, and we got a few dollars from the province. That enabled us to complete our Student Activity Centre, the first phase of our athletic facilities, in 2002. It was a nice gym, but it was not big enough to meet CIS standards."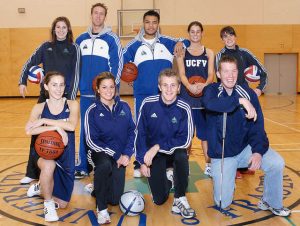 Bassford and the administrative team were committed to getting UFV teams admitted into the CIS, part of a larger strategy to gain university status for UCFV from the provincial government. On the academic side, it had been accepted a member by national post-secondary organization AUCC (now Universities Canada) in 1997.
"So we had to go back and build an additional gym, again looking to a variety of sources for funding. Envision Financial came through with support that put us over the top, and that's how it came to be called the Envision Financial Athletic Centre."
Another major challenge for UCFV Athletics was proving that it belonged in the university-level CIS for varsity competition after achieving much success at the college level. As a university-college, UCFV offered third- and fourth-year programming, which meant that students stayed around as long as university students do.
Once again, Bassford came through as a champion.
"I knew our athletes and teams could compete with the best in Canada, and there was clear support for us moving to this level within the Fraser Valley. But it took some real persistence on our part to convince the powers that be. I think they got tired of looking at me as I showed up to meeting after meeting of all the athletic directors. They kept saying that we were not a university yet but I would argue back that we were a four-year institution that granted degrees – a university in all but name. I think some of the athletic directors were a bit afraid of us because they knew we would provide strong competition.
"Eventually, Canada West let us into their conference for soccer and basketball, which set the stage for us to be accepted at the CIS level in 2006. This all tied in to our drive to achieve full university status for UCFV."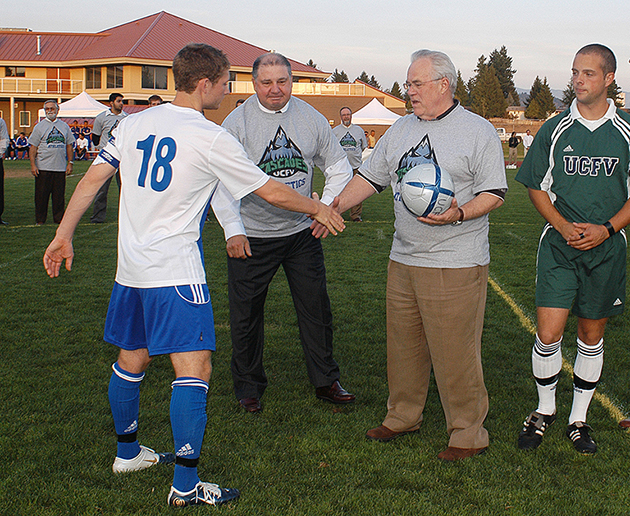 For Bassford, a robust athletics program is part of the full university experience.
"Playing sports at the university level helps athletes in many ways that enhances their education," he notes. "It helps them develop skills and experience in teamwork, leadership, juggling priorities, and overcoming adversity. And it's good for the general population from a school spirit perspective to have teams to cheer for."
Scholarships were the third area where Skip helped Athletics tremendously.
"It was part of the requirements for CIS membership that we offer more scholarship support for student athletes, so I helped look for community sources of support for that. We managed to help quite a few students. It's a big challenge to commit to full-time study and sports at the university level, so freeing some of the athletes from also having to hold part-time jobs allowed them to focus on those other two areas."
And then there's Bassford the sports fan.
"I enjoyed watching all the UFV teams play. It was a joy to attend games for all the sports. And although I have moved out of the Valley, I still enjoy following the teams through the internet, and getting out to a game when I come back to visit."
He achieved notoriety early on as a passionate spectator.
"The first basketball game I went to, the ref threatened to throw me out! I did learn to tone it down a little after that, but I don't think I ever escaped the notoriety of being the only university president threatened with ejection from a sporting event. Still, I hope people also remember the times I led UCFV and UFV cheers from the sidelines.
"All in all, it was a real privilege to work on behalf of UFV athletics. I deeply appreciate the honour of induction into the Cascades Hall of Fame. But it is to be remembered that the successes I had at the time couldn't have happened without the phenomenal support of the UFV community."