Colleagues, friends, and family members of the 2018 UFV retirees gathered to celebrate the newly retired and thank them for what collectively equaled almost six centuries of service to the university in all its phases.
Some had started their careers when we were known as Fraser Valley College. Others joined during the UCFV phase. All have seen many changes and helped to build the UFV of today.
President Joanne MacLean started by jokingly pleading with them not to go.
"This saying 'goodbye' event is my least favourite event so far as a new president. Folks, you're making a mistake! Stay with us. Retirement is going to be awful. Imagine not having to get up and go to work every morning, days with no meetings, no deadlines, no stress, doing whatever you want, whenever you want," she said.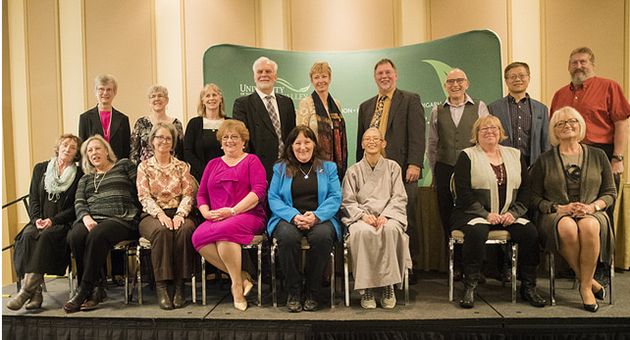 "You can't blame me for my stance. There is a collective 590 years of experience and contribution among our 29 retirees this year.  I'm mourning UFV's loss of builders and transformers: the dedication, the wisdom, the energy, the commitment of 14 faculty members across each of our six faculties and 15 administrators and staff from an equally broad group of campus departments. Collectively, your work has been the backbone of our university. And we are going to miss you!
"Thank you for the important contributions you've made to the development of our university and for the care you've taken in guiding our evolution as an institution. Thank you for the impact you've had for students, for colleagues, for parents of our students, for the community that we serve.
2018 retirees

DJ Sandhu                Rosemary Wolf         Brad Whittaker
Glen Paddock           Diane Griffiths          Vicki Grieve
Les Stagg                   Yvon Dandurand      Nancy Goad
Daniel Kwan            Sheila Edwards          Priscilla Lo
Hugh Brody              Bruce Corbeil            Regina McKee
Brian Wiebe             Darlene Rosner         Brenda Fredrick
John Potts                Ian McAskill              Ramona Franzen
Betsy Terpsma         Phyllis Beauchene    Rachelle Trudeau
Kathy Keiver             Ding Lu                      Luanne Yellowfly
Monique Castonguay