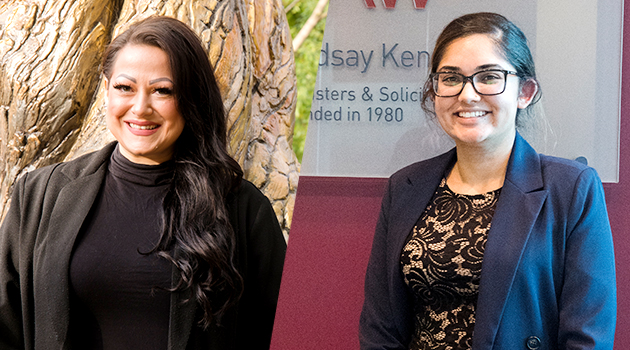 Do you love an intellectual challenge? Enter the legal profession.
Pawanpreet Gill and Melissa Solomon, two recent graduates from UFV Continuing Education's Legal Administrative Assistant (LAA) program, have found a stimulating work environment at a full-service law firm, Lindsay Kenney LLP, based in Langley and downtown Vancouver.
However, both took a few detours on the way.
Circuitous route
"I started my university studies in psychology," Pawanpreet says, "but I switched to political science and criminology when I discovered I had an interest in law." Unfortunately, after three years, personal setbacks led her to abandon her studies in order to find full-time work.
Enrolling in UFV's Legal Administrative Assistant program allowed Pawanpreet to enter the legal profession while continuing to earn a wage. "I never thought I'd go into this field as a legal assistant," she says. "Starting out on the administrative side allows me to see all that goes into making a case successful. I feel this knowledge will be helpful, as I still aspire to become a lawyer."
As for Melissa, she first tried her hand at personal training and kinesiology studies. She then moved on to earn a diploma in holistic nutrition and to start a degree in psychology. When each option proved unsatisfactory, she revived an old childhood dream.
"When I was in Grade 2, I wrote in my journal that I wanted to be a lawyer," she says. "I have always been interested in law, so I chose to become a paralegal. The first step in that journey was to complete the Legal Administrative Assistant program."
Going beyond the textbook
For both women, the Legal Administrative Assistant program proved transformative not only professionally, but also personally. "I learned how to do legal work correctly," Pawanpreet says. "But instructors Sabrina and Terry also modeled how to be professional and poised. Confidence was an issue for me. The program taught me to open up and be more sure of myself."
"Sabrina and Terry drew on their personal experience," Melissa adds. "They tackled topics like gossip and personality clashes to help us avoid these pitfalls in the workplace. They genuinely cared about our success and were not just there to give us a pass/fail grade. They fostered a dynamic of maturity and collaboration in our group that was really special."
Ready for the win
Equipped with top-notch skills, both women were ready to answer the call when opportunity came knocking.
While initially interested in taking a practicum in corporate law, Pawanpreet landed in the personal injury department at LindsayKenney LLP. "They offered me a job after my two-week practicum," Pawanpreet says, "and six months later, I am still learning. Every day I see new cases involving motor vehicle accidents. There is always one that is unique and interesting and I love watching how the lawyer in charge will handle it. I'm excited every single day because there's always something new to learn."
As for Melissa, she started her practicum in the litigation department."There was a legal assistant retiring and they asked me to switch gears and work in the Wills and Estates/corporate department," she says. "I was both terrified and excited at the same time. Even though I was told the Associate Counsel had initially requested someone with five years of experience, he decided to keep me after the initial trial period."
"We find that UFV not only provides excellent training to their students, but prepares them for life in the workforce as well," says Sandra Marshall, Lindsay Kenney LLP's Manager of Corporate Services. "Pawanpreet and Melissa were both eager to learn and exhibited maturity, professionalism, and great personalities. They arrived at their interview prepared and with a good base knowledge for working in a law office."
Next step: a paralegal certificate
However, landing a job is only a stepping stone for the two grads. Both have enrolled in UFV Continuing Education classes to pursue a Paralegal certificate.
Melissa finds that she can apply what she learns on the job. "I'm studying Legal Research and Writing right now and it is really applicable because I have the opportunity to draft documents as part of my work," she says.
As for Pawanpreet, she's excited by the opportunities open to her. "Eventually, I'd like to finish my political science degree part-time," she says. "But for now, I will complete my paralegal studies and take advantage of opportunities for advancement."
Working at Lindsay Kenney LLP
With locations in Vancouver and Langley, B.C., Lindsay Kenney LLP is a full-service law firm with a team of 37 lawyers, supported by more than 80 paralegals, legal administrative assistants, managers, and administrative staff, some of whom have been part of the team for over 25 years.
The firm is one of UFV Continuing Education's practicum hosts. "We have gained a number of well-trained and eager staff members through the practicum student program at UFV," says Sandra Marshall, Lindsay Kenney's Manager, Corporate Services. "After having completed their two-week practicum, we have hired a number of students to join our team as permanent staff members. These students have become an integral part of our team and allow us to grow from within and add to our already motivated and committed core of staff members."
As a growing law firm with a thirty-five year history in the Lower Mainland, Lindsay Kenney values diversity. The firm is also the B.C. regional member of Mackrell International, a global network of legal firms. This membership enhances the firm's ability to provide clients with access to international legal advice.
Lindsay Kenney keeps this focus on diversity when hiring both practicum students and new hires. "We look for mature, eager students from a diverse background," says Sandra. "Students with some life experience, not necessarily in the area of law, are sought after. For example, we have hired students who have worked in a family business or had exposure to working with the public. We're on the lookout for individuals who have good interpersonal skills, writing skills, and a positive work attitude."
INTERESTED IN HOSTING A PRACTICUM STUDENT?
Call 1-888-504-7441 local 6324 or email continuingeducation@ufv.ca