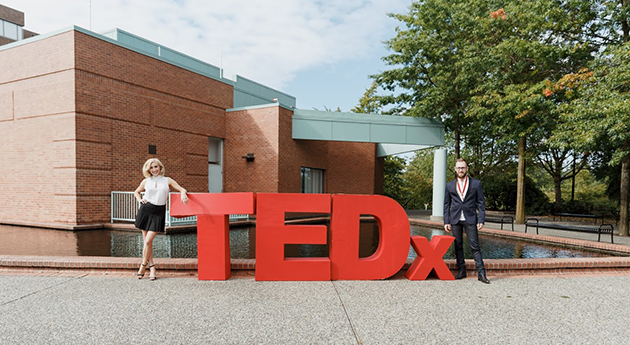 TEDxAbbotsford returns on Sat, October 13. UFV is a platinum partner for the event, which will take places in B101 on the Abbotsford campus from 11 am to 5 pm.
This independently organized event, licensed by TED, will feature local voices and TED Talks videos under the theme of REVOLUTION.
"We selected Revolution to conjure up an image of what we would like to interpret as drastic change for the better," says head organizer Tiffany Beaton. "We see TEDxAbbotsford as a collaboration of individuals and their ideas coming together to raise each other up. We hope to challenge the way people perceive ideas and encourage an open mind to revolutionize our community. We want to foster a community of innovation that sparks change."
Speakers: this year include UFV professors Dave Harper and Sven Van de Wetering, Shawn Neumann (one of UFV's Top 40 Alumni), Melissa Quinn, Danielle Miller and Mariah Vermeers, Dan Levitt, Ben Jordan, Dr. Joanna Ashworth and more.
The chosen speakers are leaders in their own fields and have demonstrated a passion for the world around them.
"We look at corporate cultures and individuals' stories," says Beaton. "These individuals put data behind their observations, see value in collaboration and want to be the advocates for action in our community.
"Our vision for TEDxAbbotsford is to bring together various people from all walks of life and share their ideas and/or experiences to help improve our community and its individuals," she adds. "I enjoy organizing such an innovative event and the work seems minimal after experiencing the excitement at the event and watching the attendees with new knowledge and inspirations."
While TED is a non-profit global organization, devoted to Ideas Worth Spreading, TEDX is a local TED-like event, highlighting outstanding local residents whose vision, awareness, and ability to drive change inspires their community to take action.
For more information and to purchase tickets, visit the website or follow @TEDxAbbotsford on social on Twitter, Facebook, Instagram, and Youtube.
TED is a nonprofit organization devoted to Ideas Worth Spreading. Since its inception as a four-day conference in California almost 30 years ago, TED has grown to support its mission with multiple initiatives. Two annual TED Conferences invite the world's greatest thought-leaders to speak for 18 minutes on a diverse mix of topics. Examples include Bill Gates, Jane Goodall, Elizabeth Gilbert,  and Sir Richard Branson. In 2014, TED came to Vancouver, BC in addition to the TEDActive simulcast in Whistler, BC.