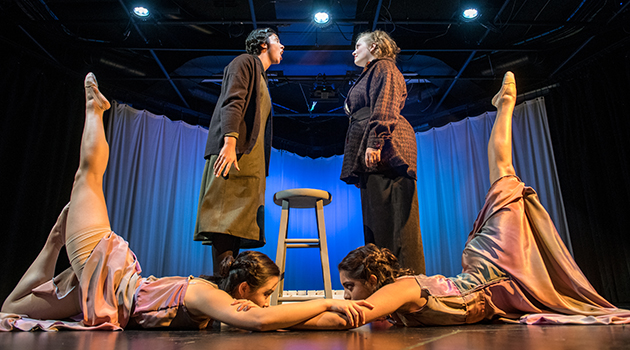 The University of the Fraser Valley's Theatre department presents the first production of its 2018-19 season, Herman Voaden's 1932 play Rocks: A Play of Northern Ontario. Directed by Claire Carolan and designed by Parjad Sharifi, both UFV Theatre faculty, this example of early multi-media expressionist drama was inspired by the work of the Group of Seven and incorporates movement, music, and scenographic design. The production promises to showcase the creative talents and innovation of the department's students, faculty, and staff.
Rocks tells the story of school teacher Mary Brown as she waits for her love to return home after a winter storm. Battling powerful and painful emotions, Mary comes to accept her love's death. This play reveals both the harsh realities and the wondrous beauty of living in the Canadian north.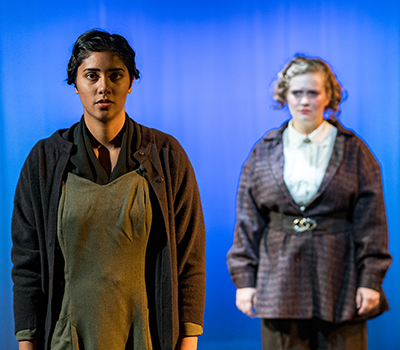 Rocks runs Nov 13–24. Details about performance dates and times can be found here. Saturday matinees will be preceded by guest lectures by UFV faculty, which promise to enhance audience members' understanding of the performance. Performances will take place in D105 on the Abbotsford campus.
Reserve tickets early, as audience seating is limited. All performances of Rocks are pay-what-you-can with suggested prices of $15 for adults and $10 for students and seniors, cash only at the door. Seats can be reserved ahead of time by emailing theatre@ufv.ca or by phone at 604-795-2814.
About the 2018/19 Season of Theatre at UFV
After the season's opening with Rocks: A Play of Northern Ontario, the department will present Attempts on Her Life by Martin Crimp, March 13-23, 2019. Crimp's play is a postmodern exploration of identity and the meaning of self, revolving around the mystery surrounding who — or what — the enigmatic Anne is. The season concludes in April 2019 with the Devised Theatre Showcase in which theatre students present original, collaboratively created theatre projects, applying everything they have learned in the devised theatre course. The final performances of the Devised Theatre Showcase will be included in UFV's second annual Interpret Festival, a year-end celebration of the work of students in all creative and fine arts programs. Check ufv.ca/plays for more information about upcoming performances.