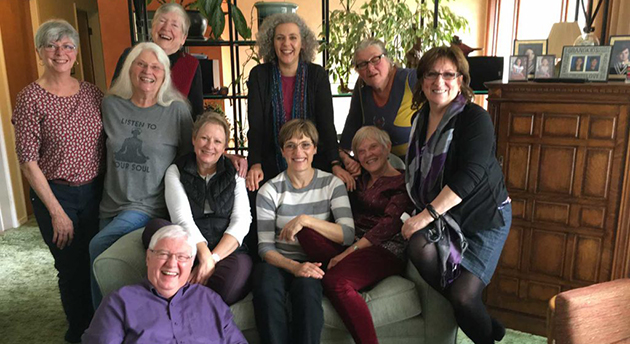 Retired but not tired of theatre is one way to describe some former UFV faculty and staff who have revived a performance from 1989 and will be performing it July 10 at the Harrison Festival of the Arts.
First performed to sold-out audiences twenty-nine years ago as a Fraser Valley College theatre presentation and then as part of the 1989 Harrison Festival, Talking With was one of the best-loved theatre events in the history of the Festival. This revival production of Talking With reunites many of the original cast with director Ian Fenwick for a special celebratory performance on Tuesday, July 10 at 8:30 pm.
Dubbed "the production that wouldn't die" because of its widespread appeal and the numerous performances at various venues throughout the Fraser Valley, Talking With is a play of great substance and humour. It is amusing, moving and sometimes frightening featuring a cast of extraordinary and idiosyncratic female characters. These include a baton twirler, a fundamentalist snake handler, an ex-rodeo rider and an eccentric old woman who proclaims the miraculous healing properties of a McDonald's Big Mac.
Reprising roles from the original production are UFV retirees Astrid Beugeling, Lynne Wells,  Sandy Tait, Jody Cameron and Virginia Cooke, along with Linda McRae, and Kelly Cooper,. Joining them is Harrison Festival Board of Directors president and current UFV theatre staffer Heather Robertson and Vancouver actress Jackie Minns. Talking With is directed by former Theatre program head Ian Fenwisk and produced by Ian Fenwick Productions by special arrangement with SAMUEL FRENCH Inc.
Date: Tuesday, July 10 8:30pm
Location: Scheduled for Harrison Memorial Hall, but may see last-minute venue change due to picket lines by municipal workers.
Tickets available here.