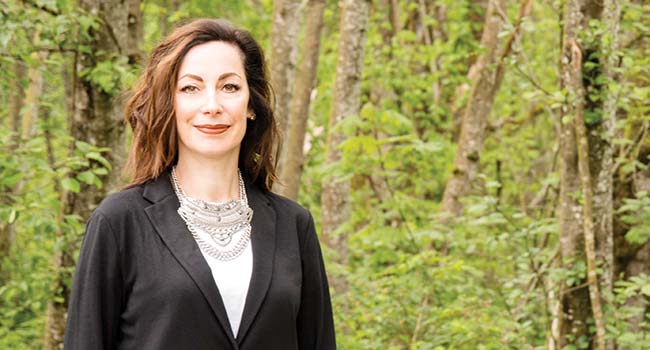 We've all heard it said: networking is critical to career success.
For employees who work remotely — such as Denise Parker, a senior administrator who runs the West Coast operation of a weatherproofing company headquartered in Toronto — networking opportunities are gold: they keep career stagnation at bay.
Networking events are one way to meet people, but Denise found another: she rubbed shoulders with other professionals when she took the Management Skills certificate with UFV Continuing Education.
"We were learning in an intimate setting," Denise says. "Small classrooms of 20 to 25 people provided a good learning environment and great opportunities to network. I had classmates from all kinds of sectors. They worked for government, corporations, and local companies."
Management skills wanted
As a seasoned professional herself, Denise brought over 20 years of experience spanning three industries to the classroom. "Products may change from industry to industry," she says, "but my sales and administration skills carry me through."
Denise got her start in the leasing industry, after earning a Business Management diploma. "I'm the only one in my family without a bachelor's degree," she confesses. "I always intended to carry on with my studies, but life got busy and I never had the chance."
However, two years ago, Denise's supervisor urged her to develop her potential. "He was reaching retirement age," she explains. "He wanted me to prepare to become a manager."
Her supervisor had foresight: in the next decade, as an aging population leads to a wave of retirements, managerial roles will be hit first. In fact, in their 2016/17 Canada Talent Shortage Survey, Manpower Group reports that, since 2013, management and executive roles have been among the top three hardest to fill.
Hooked on learning
And so, with some professional development funding from her employer, Denise went back to school.
And she soon found that she was hooked. "In each class, I was taking in as much information as I could," she says. "And while taking the Management Skills certificate I saw some interesting Human Resources (HR) Management classes. So Istarted taking those as well."
Denise appreciated both the quality and delivery of the course materials. "Instructors were knowledgeable and supportive," she says. "They all had experience in their field. And they prioritize learning over grades. They would often check with us to make sure we understood the information presented."
Denise also enjoyed class interaction. "Classmates would bring out examples from real life to discuss," she says. "And people would go to work the next day, apply what they learned, and give us feedback next time we met."
Developing her public speaking and presentation skills was Denise's greatest personal milestone. "At first, I was terrified to present," she recalls. "I stammered and barely spoke. But people were supportive and I realized nothing bad would happen to me in front of the class. I even grew brave enough to do a presentation in a duck suit. I would not have considered doing this a year ago."
Overcoming setbacks
At one point, Denise feared major life setbacks might derail her learning. "In January 2017, my husband had a heart attack," she recounts. "And a month later, my mom, who lives in Alberta, suffered kidney failure. I dropped everything to go be with her."
But lifelong discipline and a serendipitous course schedule worked in her favour. Despite adversity, Denise graduated with two certificates from UFV in April 2018: A Human Resources Management certificate and a Management Skills certificate
"I was so happy to list my certificates on LinkedIn," she says. "It is important to show fresh professional development on your résumé. Employers are looking for it.
"I would absolutely recommend both of these certificates to any employee," Denise continues, "even if you are not currently in a management or HR position. It's key knowledge to have as a job seeker. It gives you the insight you need to ask educated questions and take charge of your career path."