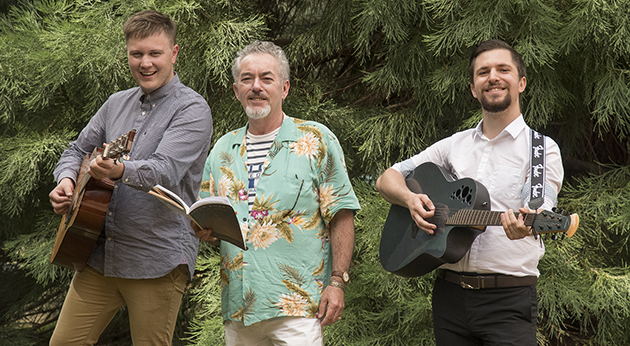 English professor Trevor Carolan is taking experiential education to a new level.
He will be performing with two of his former students in a music/poetry mashup at the Harmony Arts Festival on Aug 9 from 3 to 4 pm at Ambleside Park in West Vancouver.
Carolan and singer/guitarists Zachary Keely and Marlowe Ferris will share spoken word favourites combined with songs and cool breezy sounds for a summer's day at Ambleside waterfront's glorious Silk Purse Arts Centre. Think Leonard Cohen, Bob Marley, W.B. Yeats and original West Coast poetic images! The program is suitable for all ages.
One of Canada's veteran poets and authors, Carolan is renowned for his public readings with musicians and artists. He performs internationally, has published 19 books and produced two films. Always a crowd-pleaser, he teaches English and writing at the University of the Fraser Valley.
Marlowe Ferris is a singer/songwriter and crackling guitar and banjo picker who plays in the style of Bob Dylan, Luke Kelly and Buddy Guy. He performs widely out of White Rock, BC. Zachary Keely is a guitarist and Irish-inflected vocalist with acclaimed Fraser Valley rockers Little Wild and local pop festival favourites, Casinos.
"This is always an outstanding community festival, one of the tops in B.C.," notes Carolan. "Zachary and Marlowe were students of mine this past year and distinguished themselves in class as singer/musicians. They've since done a couple of other events to real acclaim. When I received the invitation to read for the Harmony Arts Fest, it was obvious that these were the new talents to work with. We've been rehearsing a new program comprised of my own poetry, favourite Irish and English poems & songs by W.B. Yeats, Paddy Kavanagh, Patrick Colum, John Lennon and Paul McCartney, with a little Bob Dylan to boot. Zachary and Marlowe are both fine guitarists. We work in a series of solo songs and poems, ensemble works for three voices, spoken word, the lot.  It's plenty of fun working with these up and comers.  They keep you on your toes, for sure. It's not often that profs and students get to work together in a public way. This is a great opportunity for us to do that: Marlowe and Zachary get to keep advancing their careers as creative entertainers, and the show lets me diversify my usual reading performances. It's terrific that UFV can create the kind of learning situations where we can come together this way."
More info here.