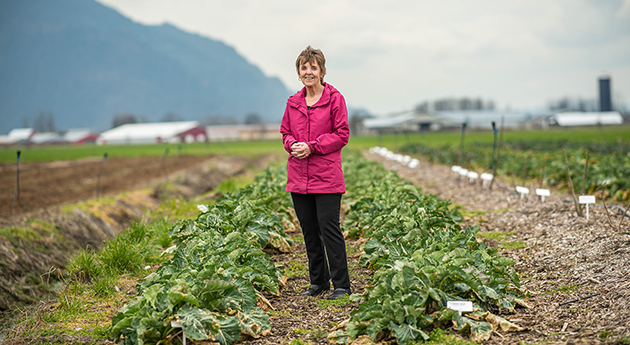 When the UFV Bachelor of Arts grads of 2017 crossed the convocation stage in June, Rose Morrison wasn't among them.
"I left it to the younger ones to have their moment of glory," says Rose, who was 72 at the time.The septuagenarian had achieved both her Bachelor of Arts and the right to be there, having just completed her final semester in the latest chapter of her winding academic journey.
Rose's love of writing and literature brought her back to UFV as an English major after a long career as an instructor in the UFV Agriculture program. When it came time to work on her capstone project for English professor Trevor Carolan, she brought her interest in all things agricultural, and wrote a lengthy creative non-fiction project about food sovereignty in the Fraser Valley.
There have been a lot of chapters in Rose's life. Early school leaver in England. Brave immigrant adventurer with her first husband and two oldest children, moving to Winnipeg on a whim in search of a better life. Accidental farmer. Mature student, starting university in her mid-30s. Single parent to four children. Soil expert. Agriculture instructor and department head. PhD candidate. Grandmother. Retiree. Caregiver to her second husband during his lengthy illness. Widow. And then, mature student again, starting over at the age of 68.
"My parents passed away quite early and I had to leave school at 16," Rose recalls. She got a job as a proofreader and editor for a pharmaceutical company and met one of her first mentors.
"My boss used to say 'Rosie, count every day as lost that you don't learn something new.' I took that advice to heart."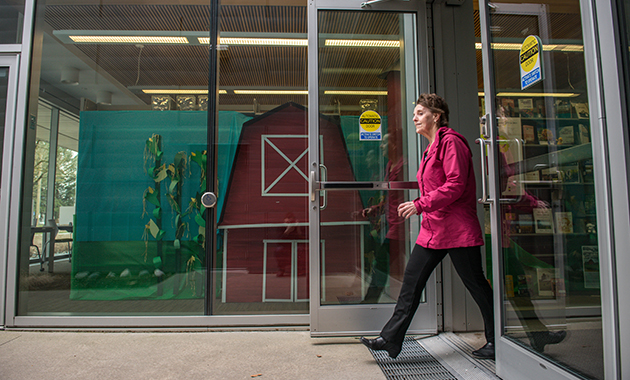 She hadn't imagined herself as a farmer, much less an instructor in an agricultural program. When she and her first husband decided they'd like to buy a small farm outside of Winnipeg, the idea was that he would go school so that one of them knew about agriculture.
"I couldn't find a job that would support the family, so it ended up being me who enrolled in the agricultural courses. Once I started going, I caught the learning bug, and ended up earning my diploma, my bachelor's degree, and eventually my master's degree."
She had heard that there was demand for expertise in soil sciences, so decided to focus on that aspect of the field.
Years later, she no longer had the farm or the husband, but she did have the credentials to teach at the college level, so she came to British Columbia in 1985 and took a job at the then-tiny Fraser Valley College.
For the next 25 years she taught soil sciences, sustainable agriculture, and agriculture policy, serving as director of the department at various times. She helped the program grow from offering one-year certificates to having several diploma options.
"We always dreamed of a bachelor's degree in agriculture, but it didn't happen during my time. I am glad to see that it is happening now."
She wasn't done with being a student either.
"In the early 1990s I was a PhD candidate in agricultural geography at Simon Fraser. Like many students, I learned that I could not do well at work, in my family, and with my studies all at once; I dropped out after completing my comprehensive exams."
Teaching for several decades meant she watched with pride as her former students achieved success in many areas of the agriculture industry.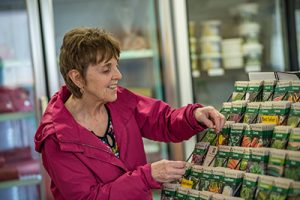 "I see my former students working everywhere: on farms, in various agri-businesses, even in banks as agriculture specialists. My greatest satisfaction is to see alumni, whether recent grads or established ones, being so successful. It's wonderful to see."
After Rose retired in 2010, her focus was on the home front, as her second husband was not well. When he passed away a few years later, her dance card was blank and her evenings bleak.
"After John died I had time on my hands. I'm not used to that! As a young woman, I had always wanted to study English but life did not take me that way. I decided that now was as good a time as any to start," she says. "I wanted to learn to write better through studying literature, which I had not done in my previous academic life."
To make matters worse, an adult daughter living across the country was seriously ill, causing additional stress.
"Grief was a big part of the reason why I went back to school. My evenings were lonely and I found that I was not my own best company. Life has taught me that in troubled times it's good to have something to focus on. So I guess in a way studying was my therapy in a difficult situation."
She found herself sitting in UFV English classes beside 18-year-olds who were still into Harry Potter and Minecraft, students the same age as her oldest grandchildren.
"I had great classroom experiences. The young students were nice people and welcomed me. Many of them were very smart and diligent and keen to be there.
I enjoyed every course, every reading, and every assignment."
When it came time to do her major project in her final year, she decided to focus on creative non-fiction with Trevor Carolan, and together they decided she should choose a topic in agriculture, her area of expertise.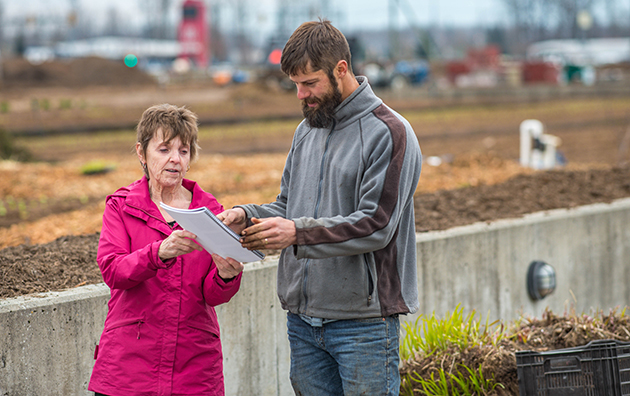 So she went on a journey, one inspired by poet and philosopher Wendell Berry, who is also a farmer and ecologist. Her journey also reflected the idea of haibun poetry — a tradition popularized in the 17th century by a Japanese wandering bard named Matsuo Basho.
Rose wandered, visited, observed, conversed, interviewed, photographed, and reflected upon the state of food production and security in the contemporary
Fraser Valley.
Along the way she found several UFV agriculture alumni and others who welcomed her with hugs and warm stories.
"It was a joyous journey for the most part. I met enthusiastic and interesting people with good ideas. Some I just stumbled across. Others I sought out."
One alumnus she visited, Andrew Etsell, had a vision of growing grapes in the Fraser Valley when he was a student in the UFV program. He completed his practicum at Mission Hills winery in the Okanagan, and converted part of his parents' farm into the Singletree winery.
"What a joy, to see him established with his own winery based on the dream of growing grapes that he had when he was our student."
Another alumnus, vegetable farmer Bill Shoker, brought his tractor in to show the current agriculture students and Rose was there because, yes, she's teaching part time again. Demand for agriculture courses is growing, so she has returned on a sessional basis. And she was pleased to hear that Bill is now farming 1,100 acres in the Fraser Valley.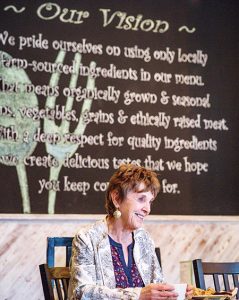 During her haibun journey Rose spoke to many people, including market gardeners at the Local Harvest operation and the owners of the Curly Kale restaurant, people devoted to sharing local food with a local population. One of these people was Marina Gibson, a volunteer with a community garden in Abbotsford, who teaches people in recovery how to grow their own food. She shared her philosophy when Rose dropped in for a visit.
"If you can make a garden come alive, people come alive; even helping a bit for someone to understand how strawberries form is wonderful."
Rose sought out the Indigenous perspective on local food from Shirley Hardman, UFV's Senior Advisor on Indigenous Affairs and she analyzed her own family's eating habits and how they used local fresh ingredients, particularly at holiday gatherings.
The resulting report is part serious presentation of facts and analysis about the state of food sovereignty, part profile of 21st century Fraser Valley food folks, and part reflective journal and memoir. Interspersed throughout the 50-page document are several poems by Rose and other poets.
Her professor was extremely impressed by Rose's final project.
"This was an amazing year-long project looking at many diverse aspects of food production, distribution, and new patterns of consumption in the region. At the Honours Colloquium in English, Rose blew everyone away with the originality, creativity, and timelines of her research. As part of the work, she wrote some short haiku-style poems while she roamed around the valley doing the more than 30 interviews/visits that she was required to do in order to compile her research."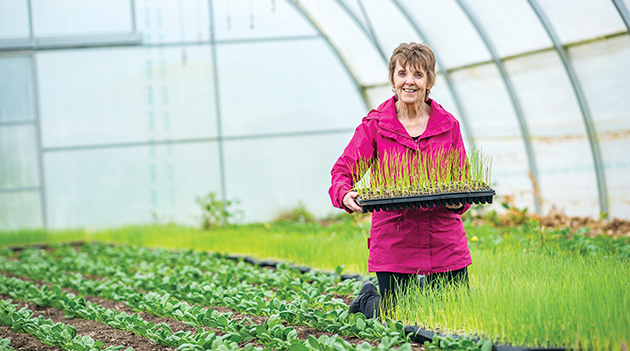 Rose was heartened by Trevor's support.
"My writing interests are mainly poetry and creative non-fiction, so I was pleased to have Trevor as my mentor for the honours essay course. I drew on his non-fiction writing expertise and benefited from his good ideas. 'Make it your own,' he encouraged; 'write something that you enjoy and that is important to you.'"
Rose highly recommends studying at UFV for lifelong learners.
"I received a very warm welcome as an older student. You just have to be brave, start slowly, and dip a toe in. All you need is a little bit of success to build your confidence and then, wow, you're on your way. UFV does this very well, building student confidence. I saw it as an instructor, and then again as a student.."  
Excerpts from Rose Morrison's Honours Colloquium project
Life's seasons change and I miss the days when my husband, who loved family dinners, was here, and family was geographically nearer. There were many big get togethers then with plenty of good food; it was often a pot-luck dinner with lively 'pot-luck' conversations circulating along with home-made dishes. It still makes me happy though, to share food with family or friends; and I am blessed to have enough that I can always set an extra bowl for the unexpected guest.
— Rose Morrison
Before Thanksgiving
Small purple plums are best
they'll keep their shape
in a rosemary shortbread tart.
My daughter cannot make it home.
Don't fret, she says. I'll be all right
come to see me afterward.
She's sent blueberry jam
made from the low-bush berries
that follow lupins up her hill.
I have yams and apples and kale,
plenty of cloves for the ham,
and for the turkey, herbs
and cranberries
bright as my daughter's blood
when the surgeon cuts her open
— Rose Morrison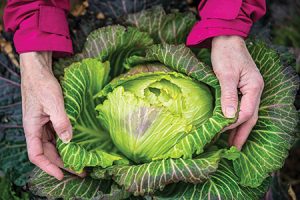 Winter Cabbage
Little green wonder
filigreed edge
in the palm of my hand
cut from cold soil
for my winter delight
— Rose Morrison