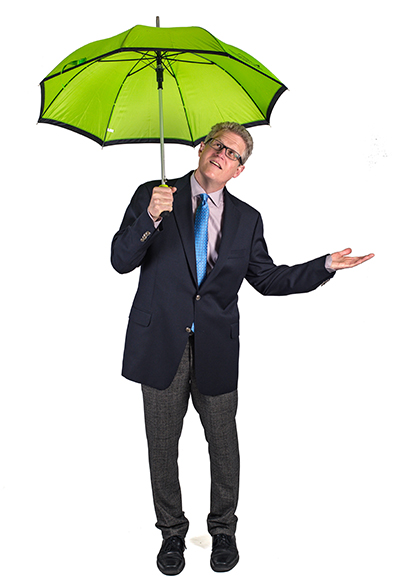 The guy just seems born for the part. From his balanced approach delivered in even timbre and a tan tweed jacket, to sharing a name with the former premier's son, there's no denying Hamish Telford has woven himself into the fabric of B.C. politics … even if that fabric sometimes feels like a ship's tattered sail seized in the eye of a west-coast squall.
Media outlets from around the world trust him to separate wheat from chaff in the wild west of Canadian democracy  — and it all came to a head in May 2017, as a 16-year BC Liberal reign crumbled in one historic night.
"There's a dearth of expertise out there and so I'm always answering questions about Canadian politics," offers Hamish, a 17-year University of the Fraser Valley political science professor.
"I would say I'm an engaged citizen more than a political expert."
Major media outlets seem to respectfully disagree.
Shane Woodford hosts the popular B.C. political radio program Inside Politics, on which Hamish is a cornerstone. Now news director of NL Radio in Kamloops, Woodford previously kept Hamish's phone buzzing while working at Vancouver's CKNW 980.
"He has an incredible way of breaking down complex issues while delivering contextual and historical information in a way people can understand," says Woodford.
"There's huge value in that for our listeners — almost every time he's on I get calls or emails from people who appreciate hearing his insight, which is almost unheard of. He's a guy we really like to call on."
And Hamish's phone never rang more than on and around the election night of May 9, 2017.
"I think most people expected the Liberals to win again," he recalls.
"Observers felt Christy Clark would be back in her element and would lead the party to re-election — everything seemed to be working in her favour, but she's
not at her best unless she's 20 points behind.
"The Liberals ran an uninspired, lackluster campaign while John Horgan and the NDP fought for their lives, because if they lost it didn't seem possible to sustain the party after so much time out of power.
"They'd have to fold their tent and go home."
When the dust settled, the Liberals received 40.3% of the vote; the NDP had 40.28%, and the Green Party pulled in 16.84%.
"The narrowness in margin was basically a tie," Hamish says.
"That makes it intriguing for foreign observers."
After a lot of hand-wringing and a little public theatre, the Greens supported the NDP, marking the first time since 1952 that B.C. was ruled by a minority government.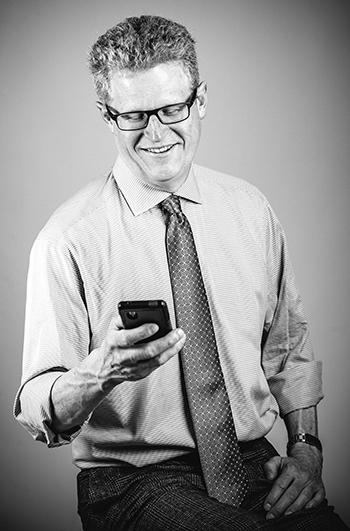 The phone that used to ring a lot suddenly rang even more. He answered more than 100 interview requests between January and early July, 2017, with about 30 in June alone, sometimes six a day. Some of those were actually two interviews, as broadcast producers often pre-interview for 15 minutes to research ahead of a five-minute live on-air interview.
And there was no shortage. Radio stations like News1130, television outlets like GlobalTV and CBC, and newspapers from the Abbotsford News to the Globe & Mail all came calling.
A personal highlight was being interviewed by the New York Times — twice.
"That made me feel I'd hit the big time," he says with a smile.
So why does he volunteer so much time and energy?
"It's an extension of my role as a public educator," says Hamish.
"I feel we have an obligation to answer the public when they ask it — and I enjoy being a part of the public discussion. Plus, it draws attention to UFV and the work people are doing here. That's a benefit and a bonus; especially if we reach out beyond the Fraser Valley community.
"It's a sneaky way to get exposure."
To enable this, Hamish has his office phone programmed to forward directly to his cell.
"Reporters use quotes from the first person they reach, so that's in my favour."
And his expertise isn't contained to just provincial politics. During the 2015 federal election Justin Trudeau's celebrity status kept Hamish busy in Canada and beyond, garnering interviews with media from as far as Istanbul and Berlin.
He has a high-definition web camera for Skype interviews in his home office — with strategically placed political science books lining the wall behind him — and he's often found on both the hard news and op-ed pages of the Vancouver Sun or Province with topics ranging from professional opinions about Green Party Leader Andrew Weaver leveraging proportional representation, to personal ones, like the questionable implementation of Google's education app into his son's Abbotsford middle school.
And it's all juggled with his duties as an associate professor of political science.
Whether with his lively new seminar-style Political Science 410, Canadian Intergovernmental Relations, which he's just taught twice, or his "bread and butter" Political Science 110, Introduction to Canadian Politics, which he's taught 55 times, Hamish keeps students as his top priority.
"It's unbelievably rewarding when you have engaged students who immerse themselves," he says. "They teach me as much as I teach them."
Since UFV's major in Political Science was approved in June 2010, he says 40 per cent of grads from that option are working or learning in the fields of law or public policy. Some of his students have gone on to hold public office.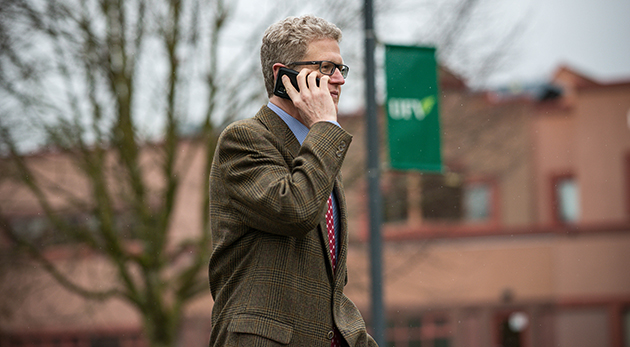 Like the students he teaches and politicians he follows, Hamish's career has gone through its own incarnations. His early academic years focused on third-world development, especially in India. His dissertation juxtaposed separation issues in Punjab and Quebec against solidarity in Switzerland.
A former UFV Political Science department head, he holds a PhD from UBC, MA from McGill and BA from the University of Toronto, and worked for the Queen's University Institute of Intergovernmental Relations from 1999 until arriving at UFV in 2001.
But even with all this expertise, Hamish doesn't hesitate when asked if he's interested in throwing his hat in the ring as a political candidate.
"No, fortunately I'm not."
From 'Wacky' WAC Bennett, to 'Fat L'il Dave' Barrett (as he referred to himself) and wily Bill Vander Zalm, and from factious pipelines to contentious dams, politics in B.C. is known for never being dull.
Just ask Hamish.
This story originally appeared in the Spring 2018 print edition of Skookum magazine.