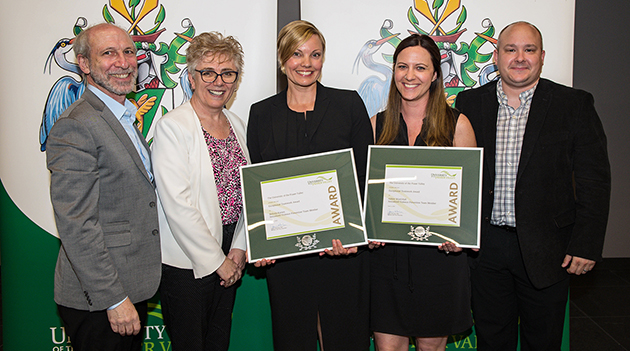 UFV's Sexualized Violence Prevention Team has earned the 2018 UFV Teamwork Award.
Working under the supervision of Student Life & Development coordinator Kyle Baillie, the team includes: Student Wellness and Development manager Greg Mather, Coast Capital Savings Peer Resource and Leadership Centre coordinator Ashley Ward-Hall, Student Transitions coordinator Belinda Karsen, and Sexualized Violence Prevention Training coordinators Jessica Jahn and Lauren Dallow.
Their commitment has been rewarded by a high level of engagement from across the university.
"It's been a pretty amazing response," Mather says.
"Students, staff, and faculty are getting equipped with tools to recognize threats or acts and respond not only on our campus but within their own communities outside of campus."
Though some institutions might struggle with similar initiatives while trying to balance the perception of inherent conflict between reporting and institutional reputation, UFV's group has embraced the opportunity to drive the issue of sexualized violence into the light of day.
The initiative is divided into three digestible 90-minute training modules dealing with consent and healthy relationships; being an active bystander; and learning to respond to a disclosure.
UFV departments and instructors can book any of the three modules for their groups or classes.
Designed as a dialogue, facilitators discuss the fluid ways in which consent, assault, and violence are issued and perceived. Topics range from the possibility of consent without words to the effect of trauma on memory recall.
"We see a healthy engagement from programs like social work, criminology, and nursing especially, but the content is important to everybody," Mather says.
"My goal is that it doesn't matter if you're a first-year student from Japan or professor who's been here 30 years, anyone — whatever their status or experience — should feel comfortable, connected, and safe in knowing they have someone to speak with."
The team's next step is further developing modules with international students in mind. With most international students arriving from India or China, Mather and his team are working to better understand the cultural differences of incoming students to provide content that helps them be successful with understanding sexualized violence.
"As advocates, our team has worked diligently to ensure that our content is on point for this community and the training has depth and breadth," he says.
"We feel this work is extremely important, and we're very pleased and honored to be recognized with the Teamwork Service Excellence Award."
For more, visit www.ufv.ca/inthistogether.