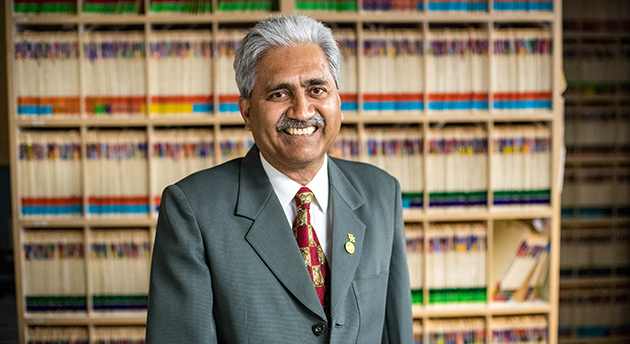 With a dental degree from India in his back pocket, Dr. Malwinder S. Dhami earned $2.95 an hour when he first came to Canada.
He held no grudge behind that 7-11 counter, not even when piercing Manitoba winter winds seeped through the doorway.
"I didn't come here because it would be easy, I did it because I had the curiosity to come to a foreign country, and Canada was considered the very best," he says.
And thanks to his kindness and generosity, it's an even better place now.
For this and more, Dr. Dhami will be recognized with an honorary Doctor of Letters degree at the University of the Fraser Valley at its June 6 morning Convocation ceremony.
Quiet, humble, and magnanimous, he's described by South Asian Studies Institute (SASI) director Satwinder Bains as "a man of vision and commitment."
"He's someone who can build bridges that reflect the true diversity of the region," she says.
"His kind, gregarious, open, willing, and dedicated personality creates many opportunities for dialogue, collaboration, and cooperation."
With his Indian accreditation not recognized in Canada, Dr. Dhami returned to school, writing aptitude tests for the opportunity to enrol at the University of Manitoba, whose pin he still proudly wears. Against difficult odds, Dr. Dhami earned his Doctor of Dental Medicine degree in 1986.
He took those skills to northern Manitoba, providing dental services for a northern outreach program for Aboriginal communities until moving to British Columbia and establishing his successful practice, East West Dental Group, in Abbotsford in 1990.
The reason behind the move was simple.
"Way less snow."
Once he established himself financially, he began to help others, and UFV became one of his favourite causes.
He was a founding contributor to UFV's Centre for Indo-Canadian Studies (now SASI) and UFV's campus in Chandigarh, but his contributions stretch far beyond the Indo-Canadian community. Dr. Dhami joined forces with the UFV Mennonite Community Advisory Committee to establish UFV's Peace and Conflict Studies program, and helped support the study of Halq'emeylem, the traditional language of the Sto:lo people.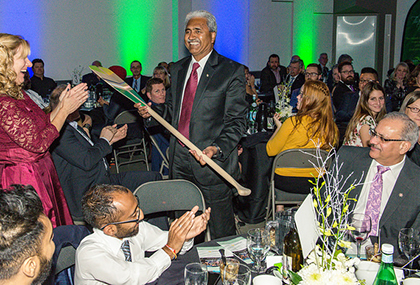 He's made more than 40 gifts to UFV over the past 15 years, contributing to students and student activities as diverse as UFV Theatre, the Agriculture campaign, Athletics, and the Student Union Angel Tree fundraiser.
Former UFV President Mark Evered worked closely with Dr. Dhami on countless community initiatives. Together, they embody UFV's goal of changing lives and building communities.
"This consummate professional, philanthropist and community relationship-builder inspired me with his unwavering faith in UFV and his confidence in the potential of our students to build a smarter, kinder, more inclusive, healthier and safer world," Evered says.
Dr. Dhami's donations often end in one dollar extra ($2,001, $5001) as a symbolic gesture meant to inspire himself and others to continue to grow a fund.
"I'm not as rich as other people, but I'm rich at heart," he says, pointing out he prefers helping students who have the work ethic and desire to succeed, but not always the financial means.
"I like helping those who need the money, because those who have the intelligence don't always have the financial capacity. And because someone helped me when I was a student newly arrived in Canada and that meant a lot to me."
The kindness of strangers didn't end with his formal education.
While driving the Trans Canada through Saskatchewan in 1987, Dr. Dhami's family was in a terrible car accident. Almost everyone was injured, and his wife barely survived.
Some were taken to Indian Head hospital, the others to Regina.
Hundreds of kilometres from home with no accommodation, transportation, clothing, or supplies, Dr. Dhami knew they needed help. He opened the phonebook and dialed the number of a stranger named Singh. Within half an hour, help had arrived.
To this day, members of the Dhami family are still in touch with the people they met through that phone call.
That family includes wife Rajinder and two grown children, son Jason and daughter Angie. His father, Ram Singh Dhami, passed away in September. His mother, Harbhajan Kaur Dhami, still lives with Dr. Dhami's family and acts as a guiding light.
"It was my parents who inspired me to help others. They were not educated but wanted their kids to get an education."
His six siblings are split evenly into brothers and sisters, one of each also living in Canada.
Though it was never his intent, Dr. Dhami's extended family continues to grow as he touches more lives every year with his inspiring contributions. Quietly he pushes others to do the same.
"For me, education is the best tool for a bright future. By contributing to the university it allows students to contribute to their community."
He doesn't ask much, but does ask something.
"I humbly request for each and every one to help someone in need, within their means," he says.
"If you help someone, you are not helping to get the rewards, you are helping to improve someone else's life."
-30-