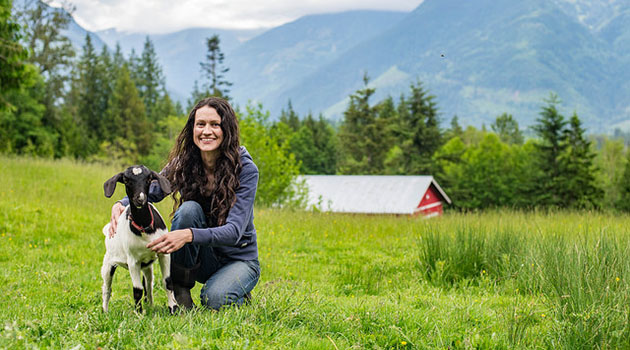 Baby goats and tarragon twigs are keeping Katherine Palmer busy this spring, but it wasn't always that way.
It took time for her true passion to bear fruit — or more accurately herbs — but thanks to two agricultural certificate programs at UFV, she's doing what she loves while working as her own boss.
And now that's led to a prestigious award.
After excelling in UFV's Horticulture Crop Production and Protection and Integrated Pest Management Essentials programs, Palmer has been chosen as the 2018 winner of the Lieutenant Governor's Medal as the top student in a certificate program at UFV.
"I loved that the programs allowed us to get a lot of hands-on experience," she says.
"The instructors are really personable, and smaller classrooms gave us the chance for constant feedback. I'd recommend it to anyone."
The seeds were planted for Palmer's love of gardening at a very early age.
Starting around the age of three, she'd grow "whatever my mom would let me."
Living in Fort St John meant an unusual growing season compared to the Fraser Valley. While fewer growing months were available due to longer winters, the Peace River region enjoys longer stretches of daylight, sometimes lasting until nearly midnight.
When her parents decided to move to the Lower Mainland, a new life started taking root almost immediately.
Palmer left her hometown, and her career as a special education teacher, and plunged into UFV's agriculture courses.
A friend with property near Ryder Lake was moving to Hong Kong and needed someone to tend to his farm. Katherine and her husband Doug stepped in, starting their own business, Kiss the Earth Herb Company.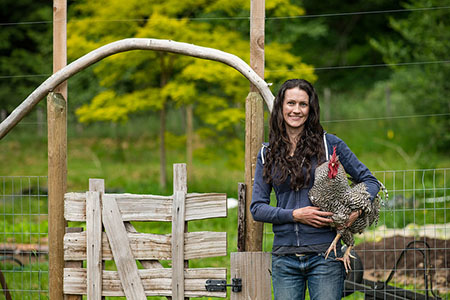 While working long hours on quiet farm miles from most amenities might seem daunting to some, Palmer embraces the lifestyle. Besides, along with husband Doug, she has chickens, ducks, geese, goats, sheep, and dogs to keep her company.
Their array of culinary and medicinal herbs are sold online and at local farmers' markets, including the Eco Market every Wednesday in Chilliwack. They focus on growing that's chemical-free and pollinator friendly.
When asked how often her UFV training helps her on the farm, Palmer doesn't miss a beat.
"Every single day."
In addition to her impressive 4.26 GPA, Palmer was a regular volunteer in the UFV's greenhouse and barn, and at related community events.
Thanks in part to UFV's credit laddering structure, she's only two courses shy of completing UFV's Agriculture Technology diploma program.
"I'm just fascinated by plants. I love being and working outside, and my courses at UFV have helped make that a daily reality. I get to be my own boss, and love what I do," she says.
"Fate just kind of fell into place."
Palmer receives her award Wednesday, June 6, during UFV's 2:30pm Convocation ceremony.
-30-