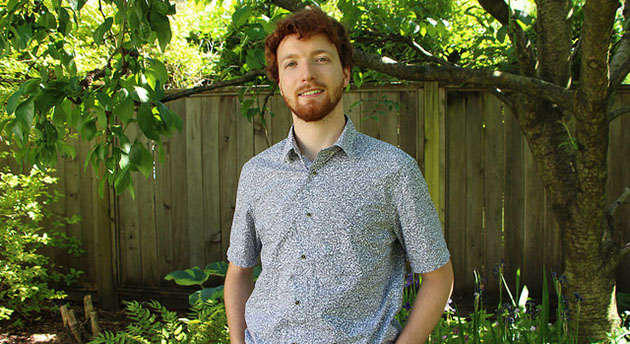 Perrin Waldock enjoys combining theoretical and applied approaches to learning.
While his end goal at UFV is a Bachelor of Science with a major in physics and a minor in computing science in 2019, he's also picking up the Engineering Physics in Mechatronics diploma along the way in 2018.
And because he has accumulated perfect 4.33 (A+) grade point average on the courses required for the diploma, he is this year's winner of the Governor General's Bronze Medal, awarded to the student with the best marks in a diploma program.
Perrin is also combining his studies with paid co-operative education work terms at technology-focused companies so that he gains real-world experience before graduating.
Last summer he worked at Pacific Design Engineering, and this year he is completing a term at Kardium, a tech company that is developing a groundbreaking medical device for the treatment of atrial fibrillation.
"It's an awesome experience working at this company with a lot of smart people and applying some of what I've learned," Perrin says. "I'm hoping to help UFV make strong connections with the company so other students and graduates can work here."
The Engineering Physics in Mechatronics diploma is a two-year credential that can be taken on its own after one year of physics and math prerequisites, or blended in with a UFV Bachelor of Science in Physics degree.
The students in the mechatronics diploma work on real-life challenges, complete with nuts, bolts, circuitry, joysticks, and electronic transmitters. The program is the result of a concerted effort by the UFV Physics department to add an applied component to its menu.
Perrin summed up the excitement associated with the program when describing one of his group projects – a quadcopter drone they designed and built from scratch.
"It's really cool watching stuff actually happen and being involved in it from the beginning," he says. "It's one thing to be looking at equations on a board, and it's way cooler to plug in a motor of something that you're involved in building and see it do what you want it to do. I had done programming before, but never with motors. That's the best part — applying the physics we've learned. The worst part is the frustration when you put hard work into something and things don't work out anyway."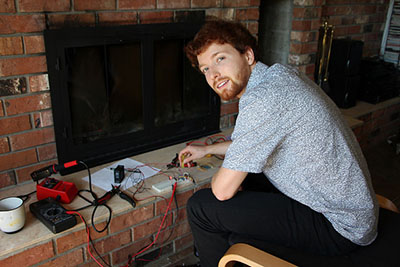 Perrin wasn't sure what he wanted to do when he first enrolled in UFV after finishing high school through Regent Christian Online Academy from his home in Chilliwack.
"I tried some programming courses, then heard about the mechatronics option and thought I'd give it a try and found that I really liked it."
He gives high marks to the physics professors for their dedication to their students.
"The physics professors really care about their students. They put in extra effort and are available above and beyond regular hours to make sure that we do well."
Perrin is sticking around UFV one more year to finish his Bachelor of Science degree. Then he hopes to enroll in a master's program, perhaps with a focus on medical engineering or robotics. UBC, SFU, and Waterloo are all on his list of potential graduate schools.
In addition to focusing on his studies, Perrin also served as the president of the Physics Student Association during part of his time at UFV.