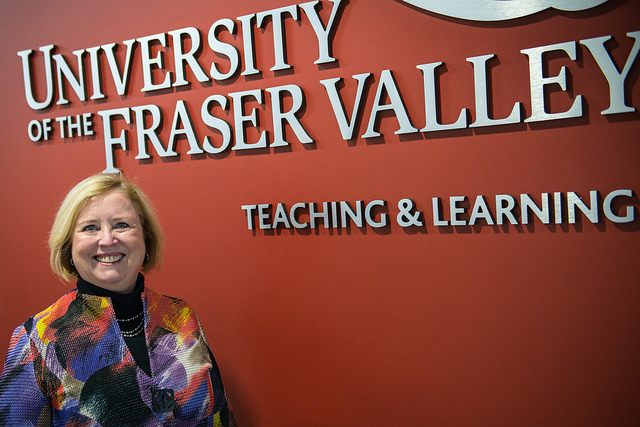 Dr. Maureen Wideman has been promoted to Associate Vice President, Teaching and Learning. Wideman has been Director of Teaching and Learning at UFV since 2014. 
"This brings the position into line with that of the AVP, Research, Engagement, and Graduate Studies, an alignment that better fits a teaching-centred university, and will increase the profile and understanding of Teaching and Learning within UFV," noted Provost and Vice-President Academic Eric Davis.
The duties of the Director of Teaching and Learning have expanded significantly since the position was filled in January 2014.  The Academic Success Centre, Supported Learning Groups, and Academic Integrity have been added to the position's portfolio.
Staffing  has increased to include a faculty development consultant, an educational developer, a second eRoom technologist, and an events assistant, as well as the staff and faculty involved in the ASC and SLG.  The position is also ultimately responsible for implementing and administering part of the Experiential Learning and Wellness Fee and for many dozens of student tutors and leaders. The position has also overseen the Pedagogical Innovation Fund, assuming responsibilities for how UFV has been spending the $2.5 million it has devoted to this initiative.
"Teaching and Learning plays an important and expanding role at UFV. Working closely with faculty members, deans and staff, we are continuously improving the learning experiences for our students. I welcome the opportunity to assist UFV by multiple means in ensuring our faculty and students are well supported," said Wideman
Before joining UFV in 2014, Wideman was Manager, Disability Services/AODA Project Manager (Secondment), University of Ontario Institute of Technology (UOIT) (2011-2013); Faculty Development Consultant, UOIT (2003-2013); an instructional designer (UOIT/Durham College) and web communications specialist (Trent University). She has taught online, hybrid and face-to-face courses.
She holds a Bachelor of Applied Arts, Journalism: Business Communications, Ryerson Polytechnical Institute (1982); Master of Arts, Canadian Studies: Canadian Heritage and Development Studies, Trent University (1997); Master of Science, Education: Online Teaching and Learning, California State University (2001); and PhD, University of Toronto, Ontario Institute for Studies in Education, Curriculum, Teaching and Learning/Computer Applications (2009).