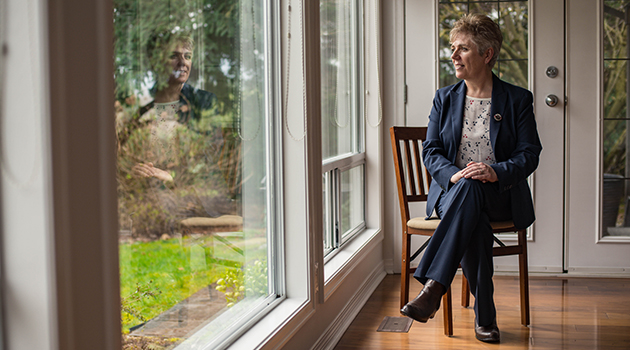 It can be a long path to the president's office at a university. It takes a strong academic portfolio, a seasoned administrative resume, exemplary leadership skills, and an open approach and demeanor that connects easily with people.
Those tasked with the challenge of choosing UFV's next president are confident they have checked all the key boxes on this list by selecting Dr. Joanne MacLean, who began her term as president on May 1, 2018, after serving as Dean of Health Sciences at UFV for six years.
"Joanne is a wonderful choice for UFV at this point in our history," says John Pankratz, Chair of the Board of Governors. "Her experience and credentials as an academic, researcher, coach, and administrator are impeccable and demonstrate her remarkable ability to build and maintain functional and highly effective teams. She understands UFV's mission and the continued evolution of education in the Fraser Valley and globally. Her strong and life-long commitment to education and to students will serve UFV and our communities incredibly well."
The role of university president wasn't always a goal for MacLean, who has written two books and over 70 peer-reviewed publications and presentations, and whose research interests include human resources and performance management, sport governance, and the Canadian sport system.
If 12-year-old MacLean had a goal at all when she looked toward her future while growing up in New Brunswick, it was to become a schoolteacher like her mother.
The intervening decades, and a career that combined academics, athletics, and administration, led her to a place where she could consider applying for UFV's top job.
"Mom was a teacher, my dad was a chemist for Agriculture Canada, and I had a busy family life with three older brothers. We were always running around and playing sports or just being outdoors, and I was trying to keep up with them," recalls MacLean.
"By the time I was in high school I had narrowed my career choice down to being a physical education teacher. And then when I got to university I broadened my horizons when I realized that I might be able to teach at the university level. I was also very involved in sports, particularly basketball, and decided I wanted to coach at a university."
One thing MacLean did know from the age of 18 was that she loved the university environment.
"From my very first year at the University of New Brunswick, I knew that university was the place to be for me, and that I wanted to build my career in the post-secondary sector. I loved the sense of community created by the students, faculty and staff, alumni, and the community at large. I had always wanted and expected to go to university, but didn't really understand the community nature of a campus until I got there."
When it came time to focus on a career, she relied on the examples set by her parents.
"My parents always supported me. I'd bring home my report card and my dad would say 'that's great' no matter what the grade was. My mom would look at it and praise me, but also ask me: 'what could you have done to get a higher grade?' They compelled me to think about what I wanted to do, and encouraged me to do it well."
And they inspired her to dream big.
"When I decided I wanted to be a university-level coach after getting my master's degree there were only three jobs open in all of Canada. My folks told me: go for all of them and you'll get one. I did get one of them, and it propelled me into my career."
What was particularly appealing to MacLean about that first coaching job — with the women's basketball team at the University of Windsor — was that it was a faculty position that also included some teaching and administrative work. This meant that she could coach while continuing to add experiences that would allow her to eventually move into an academic career.
"They told me when I took the job that I would have to get my PhD, which was fine with me, and they also supported me in doing so over five spring/summer terms and one sabbatical year."
In her second year of working at Windsor, she was offered the job of coordinator of women's athletics, her first foray into administrative work.
"A lot of people think about that type of work as paper pushing, but I quickly found it to be a welcome challenge of solving problems in order to enable students to accomplish goals. There was a real satisfaction for me in that."
She added to her administrative experience by serving on the board of Canada Basketball and as chef de mission for Canada at the World University Games.
"The common denominator of all these experiences was the opportunity to lead. For me, that means collaboration."
After 11 years as head coach at Windsor, and six years as athletic director, MacLean found herself at a crossroads. Should she continue as a coach and athletic director or move further into the teaching side of academia? A position in the department of sport management at Brock University solved the problem for her.
"It was a good match. I had lots of practical experience but I had also studied the theory of sports management for my doctorate, and I wanted to put it to use. I wanted to teach, supervise grad students, publish and seek research funding, and bring my applied perspective to all of this."
She spent 10 years at Brock, eventually becoming a full professor, department chair, and interim Dean of Applied Health Sciences. She wasn't necessarily looking to move west when she was invited to apply for the Dean of Health Sciences position at UFV, but one exploratory visit for the job interview in 2012 had her intrigued.
"I was on campus a matter of hours before deciding that this was the place for me," she recalls. "The passion for this university and for supporting students' learning that I felt from everyone I talked to was very inspiring. There was a perspective on education that aligned with mine, one that recognized the importance of teaching. There was energy and a real commitment to the place. It wasn't trying to be something that it wasn't. People were happy to focus on providing an excellent student experience and appreciated the connection between applied research, the undergraduate focus, and the university's role in the community. They understood the important of access for non-traditional students. And there was the chance to lead a brand new Faculty of Health Sciences."
She took the job, moved west with her partner Maureen Murphy, and has had no regrets.
"My enthusiasm has only been reinforced by being here," she notes. "Of course a community as diverse as a university never agrees on everything — academics are naturally drawn to debate — and that's a good thing. However, there is such a strong sense of collaboration and mission here, which is what I was initially drawn to. I love the flexibility and range of programming, from certificates to undergraduate degrees and in some cases master's degrees. We have a real opportunity to work together to meet the needs of our community and we are doing it."
Once she'd completed her first term as dean in 2017, she felt comfortable applying for the president position.
"Being a university president is an opportunity that comes around if you're at the right place at the right time with the right preparation, and that's what happened to me. I am very much looking forward to this experience over the coming years."
Members of the search committee that selected her share her excitement about her new role.
"Joanne demonstrates a passionate and contagious enthusiasm for UFV and our continued mission to change lives and build community," says Len Goerke, Presidential Search Committee Chair, and Vice-Chair of the UFV Board of Governors. "We knew we were looking for a dynamic combination of commitment, leadership capability, understanding of the UFV context, and a dedication to serving students. We have found all of these qualities in Joanne."
Joanne and Maureen will move into Friesen House on the Abbotsford campus. "I think it's very important for the president to be visible on campus. We will use the residence as a place of celebration."
As for being the first non-interim woman president at UFV, she's proud of the accomplishment.
"I think it matters that UFV has chosen its first woman president because it removes the perception that leaders must look a certain way or come from a certain background. I think that having more women and other minorities in university leadership brings appropriate balance to the system. I hope to be a role model and potential mentor to a more diverse group of future leaders, both within the academy and beyond it. Perhaps my appointment will be an inspiration to others, a symbol of doors wide open. "
Get to know Jo
She and partner Maureen Murphy are from BIG families. Between the two of them, they have nine siblings and 25 nieces and nephews, and they love going back to Ontario and New Brunswick for family visits.
They adore their two rescue dogs: Taz, a street dog adopted post-hurricane Katrina, and Ripley, from a shelter in Whistler.
They are avid skiers, favouring Whistler and Baker for snow, and back home in New Brunswick at Maquapit Lake for water skiing.
Their go-to ethnic meal out is Indian food, and they were delighted to find out that the family that runs their favourite Indian restaurant includes a UFV Bachelor of Kinesiology alumnus.
Joanne's favourite books to relax with are Armand Gamache mysteries by Louise Penny.
Her most interesting travel experience was spending five weeks in Fukuoka, Japan, as assistant coach for the national student basketball team at the World University Games.
When she's not working, Joanne tries to stay active. "There's hardly a sport I haven't tried or watched. Being active is very challenging with the kind of job I have, but it's very important to me."
Originally printed in the Spring 2018 edition of Skookum magazine.