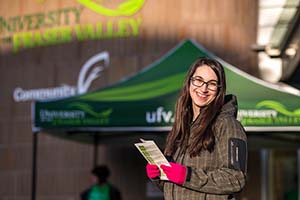 The University of the Fraser Valley has leased space at the location known as Five Corners in Chilliwack to the Chilliwack Economic Partners Corporation (CEPCO). The university will retain ownership of the building and Community Futures South Fraser will continue to have office space in the building.
CEPCO, the economic development arm of the City of Chilliwack, is responsible for promoting and enabling the economic growth of the community.
"The UFV Chilliwack campus at Canada Education Park has the space and the facilities to meet local programming needs," said Craig Toews, VP External at UFV. "As a publicly funded institution we must continue to ensure solid financial stewardship and this means consolidating our Chilliwack programming in one location. At the same time, CEPCO has expressed a desire for more space in the downtown core so this works well for both organizations."
UFV officially moved into its Five Corners location in 2014 after receiving the property as a gift from the BMO Financial Group.
Continuing education programming related to business development and training was offered at the location, as well as programming from other UFV departments.
New locations will be found for special events previously hosted at Five Corners.