UFV celebrates 2018 long-service employees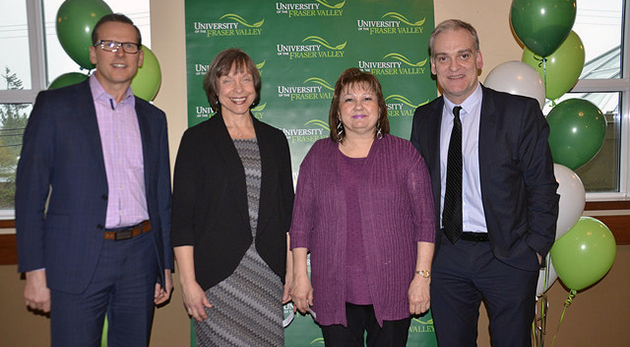 It's the sign of a great workplace when employees stick around for a decade or three.
UFV celebrated some of these long-serving employees at a special dinner at the Quality Inn on April 11, 2018.
Interim president Jackie Hogan congratulated those marking significant anniversaries at UFV this year, noting that she'd been right there with them, since she herself has worked at UFV for 29 years.
"Some of you are celebrating 10 years here, which means your time coincides with UFV receiving university status and transitioning from the university-college phase. We will be quietly noting the 10-year anniversary of that momentous change on April 21 of this year.
"We were also transforming our old trades centre into the school of business and visual arts wing, launching our first master's degree, starting to offer programing in Chandigarh, and making big plans for a new Chilliwack campus on the former army base.
"Some of you have been here 15 or 20 years, which means you arrived during the exciting times when we were building our bachelor's degree programs, opening new buildings such as Building D in Abbotsford, welcoming our first research chairs, and founding our alumni association.
"Those of you who are celebrating 25 years arrived during the great hiring boom of 1993, when we were growing at a rapid rate and adding many new degree programs after receiving university-college status in 1991. Those were exciting times too.
"And to the four of you celebrating 30 years: Craig Toews, Cameron Roy, Doris Ball, and Kim Isaac – well, WE remember when we were Fraser Valley College and had a dream of expanding to offer third- and fourth-year programming and launching our own degrees. We all played a role in the success of that university-college campaign, one that set us on the path of becoming the university we are today."
"As our four-year record of being one of BC's Top Employers attests, this is a GREAT place to work. And the people who work here – for decades, in most cases – are a big part of what makes UFV great.
10-year employees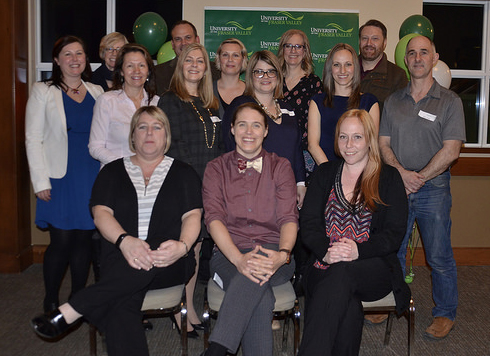 Bev Arcand, Renetter Aubin-Boisclair, Michael Baumann, Kara Bertram, Melissa Bukta, Jennifer Buss, Monique Castonguay, Jeff Chizma, Ramona Franzen, Suki Grewal, Samantha Hampton, Joanna Hawkins, Helene Lee, Rachael Letkeman, Helene Littmann, Ding Lu, Amanda McCormick, Lisa Morry, Joanne Nelmes, John Pitcher, Robin Pittman, Kerri Ponich, Melissa Powell, Corinne Richardson, David Shayler, Joanna Sheppard, Mark Sutherland, Melissa Walter, Ted Zak.
15-year employees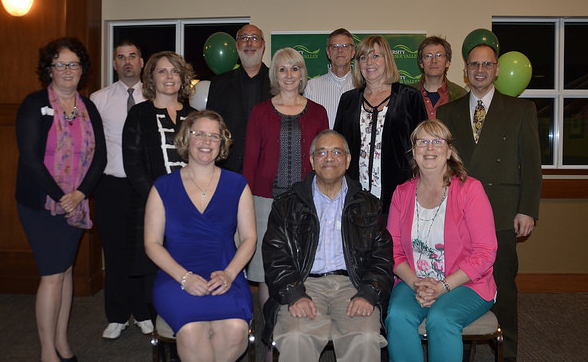 Najmi Alibhai, Allan Arndt, Trevor Carolan, Irwin Cohen, Cindy Devault, Lorin Dirksen, Ali Reza Fotouhi, Derek Harnett, Bobby Jaswal, Christine Jones, Emilio Landolfi, Nancy Merritt, Barbara Messamore, Christina Neigel, Rowena Nichols, William Sabo, Sue Smith, Shellie Steidle, Erik Talvila, Stephen Thomas, Hilary Turner, Debbie Wheeler
20-year employees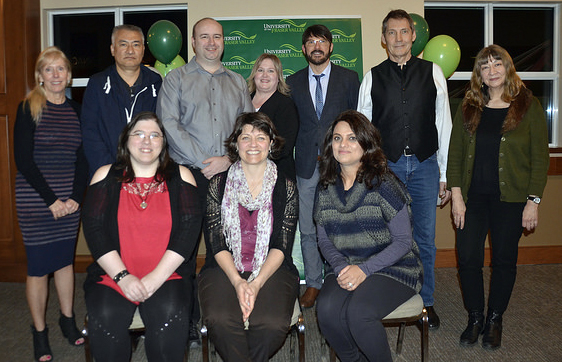 Glen Baier, Jill Bain, Sheila Bowerman, Karen Davidson, Kathryn Garcia, Robert Harding, Caroline Lai, George Melzer, Amy Nijjar, Kathy Peet, Sylvia Santiago, Shane Schlosser, Marie Tary, Ken Wong.
25-year employees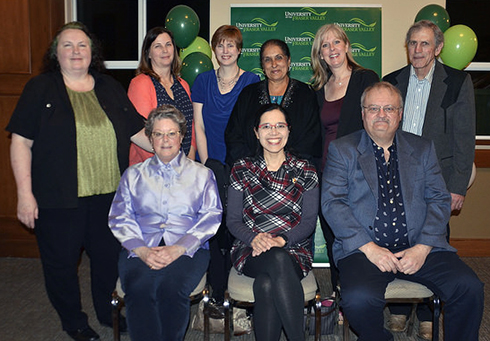 Aileen Ablog, Heidi Cain, Karen Davies, Zoe Dennison, Martha Dow, Shawna Dyck, Karen Giebelhaus, Wendy Gracey, Paul Gumprich, Julie Jabbal, Norman Taylor, Raymond Welch, Regina Yorga, Joseph Yu.
30-year employees
Doris Ball, Kim Isaac, Cameron Roy, Craig Toews.
See slideshow below: