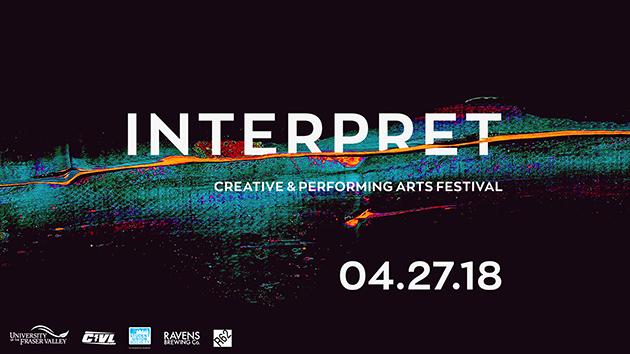 Culture will be on the menu at UFV on April 27 when Interpret, the inaugural Creative and Performing Arts Festival, launches.
The move to Abbotsford by the Theatre department has inspired the Visual Arts, Theatre, and Creative Writing students in the English department to host, for the first time, a festival celebrating the creative and performing arts here at the University of the Fraser Valley.
The planning stages began last November 2017 when Theatre and Visual Arts got together to discuss what this event would look like. The close proximity of the three areas allows for an integrated process encompassing the different disciplines. The participants include 18 senior students as well as an alumni: VA (7), Theatre (7), and Creative Writing (6).
This event would replace the annual BFA Grad Show and for Theatre, it would add interdisciplinary site-specific performances to student directing showcases. It would also introduce to the Fraser Valley community the multi-faceted culture of the arts at this institution.
With assistance from faculty and staff, this student-driven event has the support of VASA, TSA and the Creative Writing Club. The event is sponsored by SUS, UFV, CIVL Radio, Restaurant 62, and Ravens Brewery Company.
"We believe this festival will be a significant opportunity to celebrate the caliber of talent in the creative and performing arts at UFV and connect with the community," says Grace Tsururamu.
This event will celebrate the arts at UFV featuring Theatre, Creative Writing and Visual Arts. The following individuals, including alumni, will showcase their diverse talents on Fri, April 27:
Margret Bollerup
Bethany Caldwell
Paige Caldwell
Sidi Chen
Julia Dovey
Emily Eggert-Botkin
Cat Friesen
Mitch Huttema
Jessica Karroll
Jesse Klassen
Luke Kokoszska
Abrianna Leaming
Wenwei Liu
Cameron McKerchar
Willow Mussell
Emilie Poirier
Deanne Ratzlaff
Deb Silver
Krystina Spracklin
Christopher Taylor
Readings and performances by UFV Creative Writing and THEA Directing 451 students. Selected artworks from the University Arts Collection will also be on display in addition to works produced by the following courses: IDS400: Decolonizing Canada's 150th, VA 232 Sculpture & Extended Media II, VA 252 Print Media II, VA 160 Video Production I & VA 261 Video Production II.
Opening reception: 6 pm @ Evered Hall, Student Union Building, 33844 King Rd Abbotsford.
The art exhibition will run until May 11, 2018.
Event locations include the S'eliyemetaxwtexw Art Gallery (B136), D and C buildings.
Catered by Restaurant 62. Live music from 9-10:30 PM! Performers include Kristin Witko, Myriad of Whispers and DJ Simon Bridgefoot.
Event is free and everyone is welcome!
Sponsored by SUS, UFV, CIVL Radio, Restaurant 62, & Ravens Brewing Company