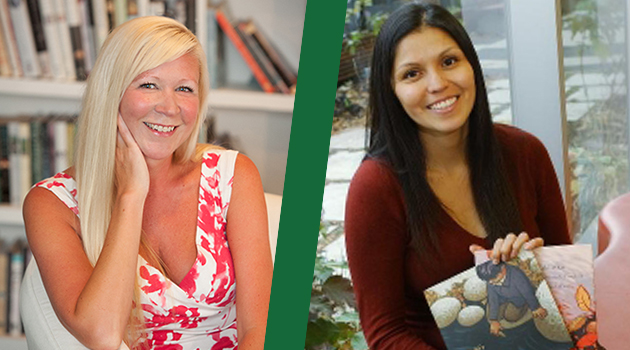 Two authors with UFV connections have been named a finalists for a BC Book Prize.
English associate professor Andrea MacPherson's most recent novel What We Once Believed is in the running for the Ethel Wilson Fiction Prize, through the BC Book Prizes.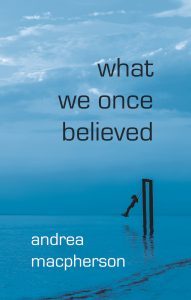 What We Once Believed (Publisher: Caitlin Press) is the story of Maybe Collins, whose life is upended by the appearance of her mother Camille, who disappeared nine years earlier. Now an acclaimed author of a memoir about motherhood and Women's Liberation, Camille is distant and confounding, and Maybe tries to piece together her mother's life — why she left, the truth behind her famous memoir, and the future of their fractured relationship. When Maybe discovers that her mother is writing another book—a book about her return — the betrayal is fierce and painful, and Maybe resolves to teach Camille a lesson that will change things
Andrea MacPherson is a poet and novelist, and has written six books: three novels, What We Once Believed, Beyond the Blue, and When She Was Electric, and three poetry collections, Ellipses, Away, and Natural Disasters.  When She Was Electric placed number 6 on CBC Canada Reads: People's Choice, and Natural Disasters was longlisted for the ReLit Awards.
Her poetry was anthologized in the UK publication, How the Light Gets In, and she has been a runner-up in both Grain Magazine's Short Grain Award, and Prism International's Poetry Award.
Born in Vancouver, Andrea was raised in the Lower Mainland.  Andrea holds an MFA from the Creative Writing department at the University of British Columbia, where she was Editor of Prism International.  She has also acted as the Reviews Editor for Event Magazine.  Andrea teaches creative writing and literature at UFV.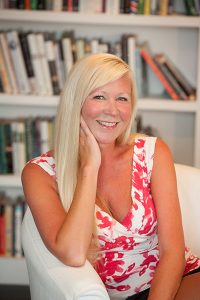 Nicola Campbell most recently organized the Indigenous Film Series at UFV. She also served as a docent for the Witness Blanket's time at UFV, and taught a storytelling course for the Theatre department in 2017. She is nominated for her children's book A Day with Yayah, which was illustrated by Julie Flett.
A Day with Yayah
by Nicola Campbell, illustrated by Julie Flett
Publisher: Tradewind Books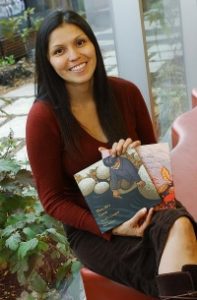 Set in the Nicola Valley in BC, a First Nations family goes on an outing to gather edible plants and mushrooms. The grandmother, Yayah, passes down her knowledge of the natural world to her young grandchildren.
First Nations author Nicola I. Campbell lives in BC. Her books have won many awards, including the TD Canadian Children's Literature Award, the Marilyn Baillie Picture Book Award, and the Anskohk Aboriginal Children's Book of the Year Award.
Campbell is Nłeʔkepmx, Syilx and Métis and is named after her home, BC's Nicola Valley. She has a BFA and a MFA in Creative Writing. She is currently a doctoral candidate, her research focus is on contemporary and traditional Indigenous literature and storytelling practices through UBCO in Kelowna, BC. She has lived in Sto:lo and Coast Salish solh temexw for approximately 20 years and currently resides in Rosedale, BC.
Nicola writes adult and children's free-verse poetry, fiction and non-fiction. On land and water she finds peace: paddling her cedar dugout canoe, running, hiking and biking. She has a strong respect and an absolute belief in First Nation's spirituality, culture and tradition.
I heard an elder speak of the importance of our languages and our culture. He said, "Our words are powerful; our stories are elastic; our languages are music: they dance, they move and they are medicine for our people. He said they are a spirit within themselves and we are only the channel that brings them to life." I write because I know what he said is true.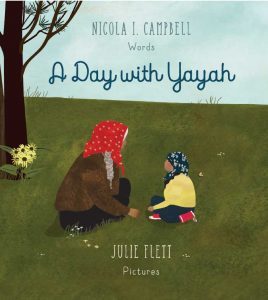 Campbell's other books include:
Grandpa's Girls
2012 published by Groundwood Books
finalist for the 2012 BC Book Awards Christie Harris Illustrated Children's Literature Prize.
Shin-chi's Canoe
2009 published by Groundwood Books
Received 2009 TD Canadian Children's Literature Award
2009 USBBY Outstanding International Books List
Finalist for the 2009 Marilyn Baillie Picture Book Award
Finalist 2008 Governor Generals award for illustration.
 Shi-shi-etko
2006 published by Groundwood Books
Finalist 2006 Ruth Schwartz Children's Book Award,
Finalist 2006 TD Canadian Children's Literature Award
Finalist 2006 Marilyn Baillie Picture Book Award.
Co-winner 2006 Anskohk Aboriginal Children's Book of the Year Award.