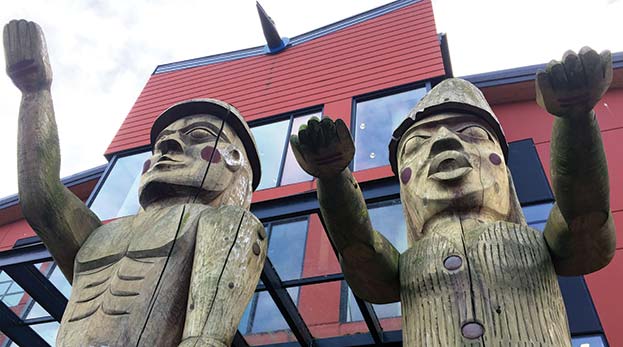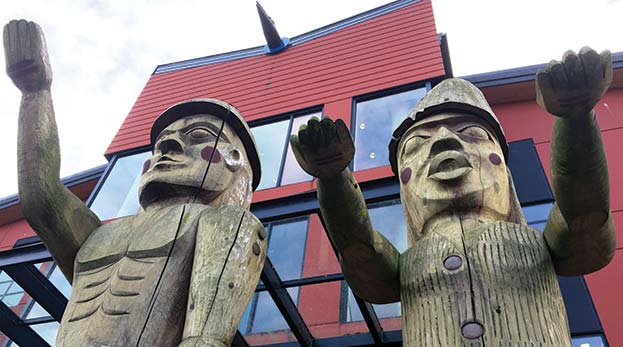 Thinking of a career in politics, law, education, social work, human rights, public administration, or international development?
In any of these professions, you can give yourself a leg up by developing a strong understanding of the history of Indigenous land claims and treaties in Canada and around the world.
And with UFV's four-week, twelve-credit Indigenous Maps, Films, Rights and Land Claims certificate, you can do it in a format that will provide you with practical and conceptual research skills that you can put to work in the field.
The four-week intensive program takes a novel approach to the study of Aboriginal rights and title claims in Canada and around the world by focusing on a range of representational practices, including film, oral histories, documentaries, surveys and maps, legal discourse analysis, and more.
"This certificate has provided me with an excellent look into the world of community development and the land claims process," says Pearl Penner, a UFV grad who is currently working with the Seabird Island Band as a Lands Administration Assistant.
"As a person who grew up around First Nations culture and traditions, taking this certificate gave me an opportunity to further my knowledge and strengthen my love for such a wonderful culture," Pearl adds. "And the instructors' passion for their work truly inspired me to continue on my learning journey and strive towards a career where I can help communities fulfill their potential."
Pearl earned a Bachelor's degree in Social Work from UFV in 2016 and took the Indigenous Maps, Films, Rights and Land Claims certificate right after graduation to top up her learning about First Nations. Eventually, she plans to pursue a Master's degree in Community and Regional Planning with a focus on Indigenous Community Planning from UBC.
"It's my goal to work with First Nations communities at a community development level," Pearl says. "I want to help Indigenous communities be the best that they can be. Taking this certificate strengthened the foundation of skills and knowledge that I am using in my work with Indigenous communities."
Earning an Indigenous Maps, Films, Rights and Land Claims certificate was instrumental in Pearl moving to a Lands Administration role with the Seabird Island Band.
Pearl is not the only student who found the certificate career-enhancing. Cassandra Enns, a TRU law student who completed the program in 2012, also had a transformative experience. "UFV's Indigenous Maps, Films, Rights and Land Claims certificate was the most eye-opening course I ever took in my undergraduate career," she says. "It totally changed my perspective and has fuelled my passions ever since."
At the time she took the program, Cassandra was pursuing a Geography undergrad at UBC. On the strength of the certificate, she landed a co-op placement at the Specific Claims Branch at Aboriginal Affairs and Northern Development Canada, where she built on the skills she had acquired to conduct research, gather information, and prepare analyses and summaries for the purpose of settling claims submitted by First Nations.
That experience proved pivotal for Cassandra on her career journey. "I started law school at Thompson Rivers University with the hope of practicing in the area of Indigenous law and rights," she says.
Indigenous Maps, Films, Rights and Land Claims certificate's eighth edition
The Indigenous Maps, Films, Rights and Land Claims certificate may be a perfect fit for you too if you're looking for an valuable credential to add to your résumé or simply have an interest in Indigenous history, culture, and values.
Scheduled to run for the eighth time from June 26 to July 20, 2018, the program is offered on the UFV Chilliwack campus. The in-class portion takes only four weeks to complete, on a four-day-on, three-day-off schedule, with the rest of the summer free to complete assignments.
Practicum work, field site visits, and guest lectures enhance in-class learning and bring concepts to life. Instructors have a wealth of experience in Stó:lō research and history, and come from a wide range of disciplines including filmmaking, geography, archeology, history, and traditional storytelling.
The team of instructors includes:
Hugh Brody, author, filmmaker and Tier I Canada Research Chair in Aboriginal Studies at UFV
Ken Brealey, Associate Vice Provost, UFV Faculty Relations, who brings extensive experience in the research and mapping of oral and documentary history, and comprehensive and specific claims;
Dr. David Schaepe, director and senior archaeologist at the Sto:lo Research and Resource Management Centre, who contributes extensive experience researching Stó:lō title, rights and heritage
Naxaxalhts'i (Albert 'Sonny' McHalsie), cultural advisor/historian Stó:lō Research and Resource Management Centre, who holds an honorary doctorate from the University of Victoria and brings his innate storytelling gift and extensive experience in the negotiation of Stó:lō title and rights.
The Indigenous Maps, Films, Rights and Land Claims certificate can be taken as a stand-alone credential or may be applied to satisfy requirements of the UFV Bachelor of Arts degree. Students wishing to apply credit towards other UFV bachelor's degrees should consult with a program advisor.
For more information, contact Dr. Ken Brealey at ken.brealey@ufv.ca