Eero Sorila had never set foot on a University of the Fraser Valley campus before he phoned the university advancement office and offered to set up an endowment for a scholarship.
But that didn't stop him from offering his support to UFV students.
Helping students is something he believes in, and he likes to share it around. He has set up scholarships at several other post-secondary institutions, and now it is UFV's turn.
"I like to give back to communities where I have benefited," he notes.
His motivation for philanthropy benefiting students is motivated by a desire to give back to a country that treated him so well, by his faith, and by the realization that you can't take it with you.
His turning point came at the height of his success. On a photography trip to Hawaii in 1998, he suffered a heart attack and survived.
"After thanking God for surviving the ordeal, I experienced a personal revolution, asking myself if I wanted to continue selfishly accumulating material wealth, or did I want to share my blessings and give back to the community. I chose giving back. Helping students through scholarships is one way I can help. Even if I were to die tomorrow, I am happy to know that others will be helped in a small way."
He has lived in the same house in Vancouver with a beautiful view of the North Shore mountains since 1978, and has done well financially from rising real estate prices through careful investments in several markets. Having been virtually married to his camera and following a busy worldwide travel schedule for over 40 years, he finally took a break and got married for real in 2008. He and Josephine, a professional accountant, celebrate their 10th wedding anniversary on March 8.
"Josephine keeps my feet on the ground," Eero says.
An eclectic man who has many interests, he likes to buy fixer uppers, improve them, and rent them out.
Since one of his projects is in Chilliwack, he decided to support local UFV students.
The newly established Henrik and Alice Sorila Memorial Scholarship at UFV (named for Eero's parents) is open to students from all majors and minors within the College of Arts. Preference will be given to students from the Chilliwack community.
Eero lives frugally so that he can give generously.
"The less I spend on myself, the more I can give away," he says, pulling out a McCafe coffee rewards card to illustrate how he budgets carefully.
But he's lived a very full life, travelling to more than 170 countries, building a successful investment portfolio, and pursuing his passion for photography and writing.
He's also the Canadian dream personified: emigrating from Finland at age 12 with his family and building a successful life in his new homeland.
He worked from childhood, helping his mother support the family when his father became ill, even collecting pop bottles for the two cents they'd bring in. As a young man, he decided to learn a trade, and became a journeyman sheet metal worker, working in that field for a couple of decades and eventually teaching the trade at the BC Institute of Technology.
But his passion was photography, and he couldn't let that passion go.
He started his own photography business in Vancouver, eventually focusing on landscape photography.
He combines his double enthusiasm for photography and travel by capturing images of landscapes across Canada and around the world.
His first success in commercial landscape photography came when he sold two photos taken in Hope, BC, for postcards.
At the time he didn't have a car and had to bum a ride from Vancouver to the Fraser Valley. Now he has sold millions of copies of his photographs in postcards and calendars.
And he's 'old school' in his methods. No digital photography for Eero! He works with large format 4″x5″ plate film camera.
"I travel very lightly, but I always bring my camera! There is nothing like standing behind a camera on a tripod before sunrise. When pristine nature is composed and captured on a post-card sized plate film, the click from a cable release is the sound of ecstasy to me even after photographing landscapes for nearly half a century. "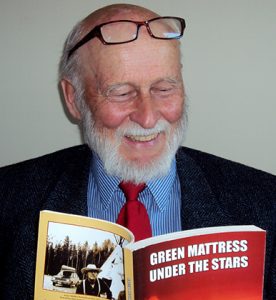 He travels so lightly and frugally, in fact, that he's been known to spend the night on a "green mattress under the stars", or the lawn of a city park. This inspired the title of his photo-travel adventures book, Green Mattress Under the Stars, which is available in hard copy and e-book formats. His latest trip, in March, will have him following his passion on a photography trip to China, Ethiopia, Madagascar, and Seychelles.
Eero always had a curious mind and a thirst for knowledge and returned to schooling at UBC, earning a BA in history in his 40s.
He encourages UFV students who love art to follow their passion.
"In life, you should answer your calling. If you can find a job in an artistic endeavor, go for it. Or try to create your own. If you are successful, the money will follow. But don't be a photographer or artist just to make money. You have to love it. Success does not fall on your lap like a Mcintosh apple, It takes hard work from planting to harvesting. If you are passionate and ready to work hard in whatever you do, the fruits of your labor will come to you like a magnet."