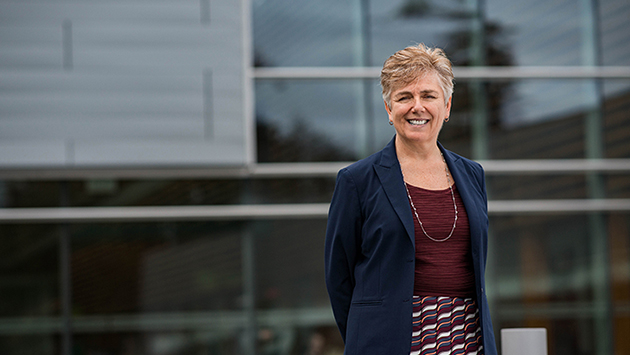 Dr. Joanne MacLean will be the new President and Vice-Chancellor of the University of the Fraser Valley.
MacLean is currently Dean of the Faculty of Health Sciences at UFV and will officially assume her new role on May 1, 2018. She replaces Jackie Hogan, who has held the office on an interim basis since June, 2017.
With more than 30 years of experience as a professor and university administrator, MacLean held appointments at the University of Windsor and Brock University in Southern Ontario before coming to UFV in 2012. She earned her undergraduate and master's degrees in physical education at the University of New Brunswick in her hometown of Fredericton. She holds a PhD from Ohio State University, where she studied human resource management in sport and recreation, and administration in higher education.
MacLean has held positions as Professor, Department Chair, Athletic Director, and Dean. As an accomplished university basketball coach, she was selected Ontario Coach of the Year three times while at the University of Windsor. She participated as a coach and administrator at three World University Games, and was Canada's Chef de Mission at the same event in 2003 in South Korea.
She is the author of two books and over 70 peer-reviewed publications and presentations, and her research interests include human resources and performance management, sport governance, and the Canadian sport system. She was named a Research Fellow of the North American Society for Sport Management in 2009.
She is the first woman to hold the title of President at UFV in a non-interim role.
"I'm excited and honoured to have been chosen as UFV's next President and Vice-Chancellor," said MacLean. "UFV is an exceptional scholarly community dedicated to student learning and life-changing experiences. I'm looking forward to building on the legacy of former president Mark Evered and working collaboratively with faculty, staff, and students to achieve our priorities and contribute to the future prosperity of the communities we serve in the Fraser Valley and beyond. I am convinced that UFV, as a dynamic, learner-focused university, is poised and uniquely positioned to educate and prepare tomorrow's citizens for an ever-changing world."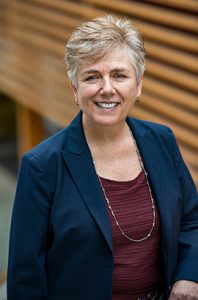 "Joanne is a wonderful choice for UFV at this point in the university's history," said John Pankratz, Chair of the UFV Board of Governors. "Her experience and credentials as a professor, coach, researcher, and administrator are impeccable and demonstrate her remarkable ability to build and maintain functional and highly effective teams. She understands UFV's mission and the continued evolution of education in the Fraser Valley and globally. Her strong and life-long commitment to education and to students will serve UFV and our communities incredibly well."
"Joanne demonstrates a passionate and contagious enthusiasm for UFV and our continued mission to change lives and build community," said Len Goerke, Presidential Search Committee Chair, and Vice-Chair of the UFV Board of Governors. "We knew we were looking for a dynamic combination of commitment, leadership capability, understanding of the UFV context, and a dedication to serving students. We have found all of these qualities in Joanne. I'm grateful to the search committee for their work, their wise choice, and their dedication to this process over the last six months."
"I couldn't be more pleased," said Jackie Hogan, UFV's Interim President and Vice-Chancellor. "Joanne has the experience, energy, and ability to launch UFV into the next phase of our 44-year journey. I look forward to working with her over the next few months as she transitions into her role in May."
Throughout the interview process, MacLean reiterated the importance of engaging constituent groups and building strong working relationships internally with students, faculty, and staff and externally with Indigenous communities, alumni, international partners, donors, governments, and other UFV stakeholder groups.
MacLean and her partner, Maureen Murphy, will move into Friesen House this spring and are looking forward to residency on the Abbotsford campus and to building further ties within the Fraser Valley after enjoying life in Chilliwack over the past five years.
For more information, media should contact Dave Pinton, Director of Communications, at 778.808.5661 or dave.pinton@ufv.ca.
-30-