Heather Stewart played key role in early Indigenous education initiatives at Fraser Valley College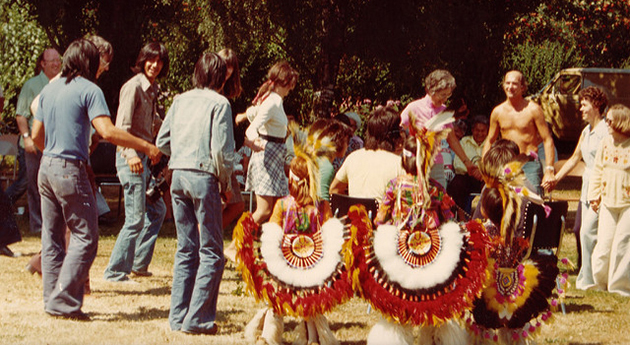 (Note: we are posting this article on the late Heather Stewart's involvement in UFV's early Indigenous education initiatives as a tribute to Heather, who passed away Dec 25, 2017. Plans are underway for a public remembrance on Sat, May 19, at 2 pm at Heritage Park in Mission. Read her obituary here.)
The history of the University of the Fraser Valley is deeply interwoven with the Indigenous communities situated within its region.
There were Indigenous representatives on the first Fraser Valley College boards, and the Coqualeetza Education Society, itself fairly new in the 1970s, worked with the young college to offer programming on Coqualeetza grounds and on First Nation reserves. (The Coqualeetza grounds in Chilliwack had been a residential school, then a day school, and then a tuberculosis hospital. By the 1970s the Sto:lo people were using the buildings for the education society.)
Heather Stewart (Commodore at the time) was among the first faculty members hired to teach upgrading at Fraser Valley College, and she was assigned to the Basic Training and Skill and Development (BTSD) program on the Coqualeetza grounds. Another BTSD cohort was offered in the Chilliwack United Church in 1974.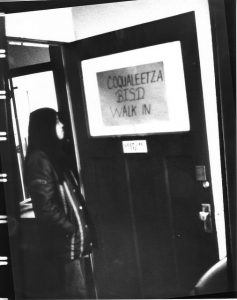 "It wasn't formally divided along cultural lines, but the Coqualeetza program attracted mostly Indigenous students with a few Caucasians, and the Chilliwack program was the opposite," she recalled. "The Sto:lo people were much more comfortable coming to a program on what they regarded as Sto:lo grounds."
Heather was working in aboriginal education in Vancouver when she heard about the possibility of Fraser Valley College opening up, and she and her then-partner were looking for an opportunity to return to his Soowhalie reserve from the city.
"I wrote my application to FVC on note paper, in pencil, while living in a tent for the summer on Soowhalie," Heather recalled. "Frank Dolman interviewed me and confirmed that I was a suitable candidate, and I got the job."
Heather saw a mix of students in her upgrading programs in those first years.
"The older ones had been to residential school and not ended up finishing high school. Some of them were initially very wary of us – understandably. The younger ones had gone to school locally but many didn't have a good experience there."
Eventually Fraser Valley College went further afield and started offering programming on reserves such as Chehalis, Seabird Island, and Kilgaard, and in the communities of Boston Bar, Hope, Abbotsford, and Mission. This led to a need for independent, resourceful instructors.
"My first test in a job interview was that I wouldn't provide directions to the interview site," Heather says. "If they got there that proved they had some resiliency."
The college also developed a very successful College Achievement program, a one-year program aimed at preparing students for college-level studies. It was located at the Chilliwack campus to encourage students to become familiar with the college environment. It combined career planning, upgrading, and aboriginal cultural content. This program attracted aboriginal students from all over British Columbia.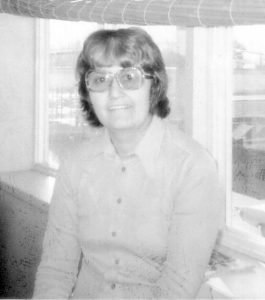 "I was an informal travelling recruitment officer," Heather recalls. "On my vacations I'd visit communities and reserves in areas like Williams Lake and Kamloops and sign people up sitting at kitchen tables in peoples' houses. The admissions and records folks got a little frustrated with me sometimes."
As Stewart worked with aboriginal students in the 1970s and 1980s, she witnessed a growing cultural awakening and political development among First Nations organizations.
"When I first started working with the students here, most of them wouldn't have identified themselves as Sto:lo people. They would have called themselves Coast Salish if they applied any label beyond what reserve they came from. That changed as time went on."
Like the Fraser Valley population in general, the Indigenous people hadn't had local access to post-secondary education before the arrival of the college. And they were even more unlikely than the general population to have completed high school or to have the resources to leave their community for college or university. So Fraser Valley College's arrival was welcomed by them.
"I figured that even one student succeeding in a course was better than what they had before, because there was no access and no options before the college came," Heather notes.
In addition to the BSTD programs at Coqualeetza and on reserves, the CAP program on campus, and the general FVC courses that were open to all students, FVC also started to offer a Native Indian Teacher Education program (NITEP) cohort in cooperation with the University of British Columbia. Students could complete their first two years on the Chilliwack campus before moving to UBC to complete their BEd.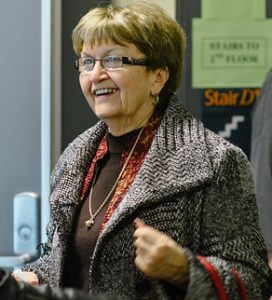 "I remember how proud we were when Bea Silver, who had started with us in upgrading, was the first among the aboriginal students we'd started with to earn her degree," Heather recalled.  "I also remember Gwen Point [who later became a UFV faculty member and  Chatelaine of Government House while her husband Steven was Lieutenant Governor, and then UFV's second Chancellor] being one of our  students, and struggling with the decision of whether to pursue education full time or continue her career as a hairdresser. Once she chose education she stayed with us for several years, and even brought her youngest child to class in a traditional Sto:lo baby basket."
Stewart also taught in the prisons when UFV offered programming there. She coordinated the programs and helped establish the Native Brotherhood in Kent Institution in the mid-1980s.
The nature of aboriginal-focused education changed in the late 1980s and early 1990s when aboriginal groups asserted their desire to have more direct control over educational offerings. This led to the creation of the Totil:thet Centre in Mission, on the former St. Mary's residential school grounds, in which FVC was an original partner with the Coqualeetza Education Society. Heather Stewart served three years as director of the centre, before passing the leadership onto an aboriginal director when FVC's involvement ended after three years.  Totil:thet failed to thrive on its own for various reasons, and after her retirement from UCFV, Stewart ran the Four Directions private post-secondary institution on the site for several years, before retiring yet again and starting yet another career as a Mission municipal councillor and big supporter of the Mission community. She was eventually named a Freeman of the City of Mission (although she would have probably corrected that to Freewoman).