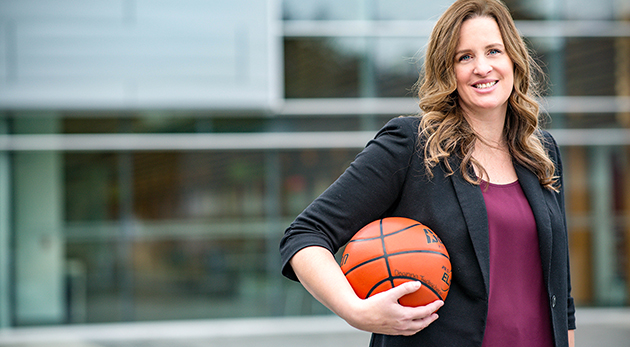 Denise Rehman (now Tuchscherer) was just a 17-year old kid from Langford on Vancouver Island when she started what turned out to be a life-changing and lifelong relationship with UFV in 1992.
She knew nobody when she stepped onto campus, not even the coach.
"I had been recruited by Mike Hind, but he took a job with Basketball BC before the season started, so I was starting from scratch."
She played four years for coach Sandy Chambers, forming strong bonds with her teammates along the way.
A 6'2" centre, Denise starred for the Cascades women's hoops program for four seasons (1992-93 to 1995-96). She helped the UFV program become a national powerhouse, and was part of three consecutive CCAA national silver medal-winning teams (1994, 1995, and 1996). Among her individual accolades were two CCAA All-Canadian nods, a BCCAA championship MVP award, a trio of CCAA national tourney all-star honours, and a Basketball BC college player of the year award. Her name is all over the Cascades' record books — she's the CCAA-era leader for playoff games played (15) and playoff points scored (163), and ranks fourth all-time in regular-season points (682).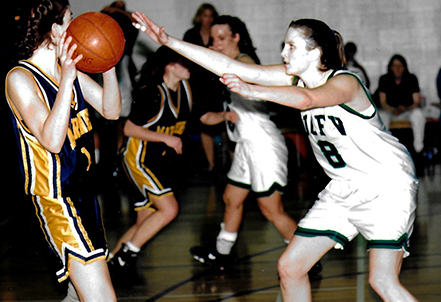 "Basketball at what was then UCFV was a great part of my life," says Denise. "We won three silvers at the nationals, and I made a lot of friends, some of whom I am still in touch with today, and got a great education. We rented houses together and would get together after practices and games to talk about it all over again. Now we see each other when our kids are playing against each other in tournaments."
This week, Denise is being honoured again as she is inducted into the UFV Cascades Hall of Fame on January 5.
She's happy to be recognized, even though she prefers to avoid the spotlight.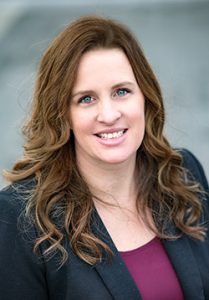 "It's pretty cool to be included in the same category as Tracy McLeod and Carolyn Lucy, two really great women basketball players who played before me, who were both inducted last year."
Decades later, Denise is still at UFV, working as a financial aid and awards advisor, helping students gain access to funding for their education.
If her married name seems familiar, that's because she is the spouse of UFV's longtime women's basketball coach, Al Tuchscherer.
They first met when he was the women's basketball team's assistant coach in her final season, but they "barely said two words" to each other. They got to know each other better when both continued as UFV students after her playing days were done (she earned her BA in 1999).
Romance led to marriage, and eventually, two daughters who grew up on the UFV gym floor. Once Al began as head coach, Denise was his assistant for several years. First Deanna, then Julia, were confined to playpens on the sideline as their parents coached at practice.
"That worked well until Julia figured out how to climb out of the playpen and then my assistant coaching days were numbered," Denise recalls.
She's still one of the Cascades biggest fans, attending most of the home games and acting as an unofficial den mother to the team at times.
"People will ask me, 'how are the girls?' and I'll have to think twice about whether to answer about my daughters or the UFV team."
And those daughters are making their own mark and furthering the Tuchscherer basketball dynasty. Denise wasn't from a basketball family, but she's part of one now.
Deanna (Grade 11) and Julia (Grade 8) both play for the GW Graham secondary senior girls' team in Chilliwack. Deanna played for the Canadian U16 team that won silver at the FIBA championships in Argentina last summer, and recently attended the U17 national tryouts.
Denise doesn't actively play basketball anymore; she's still nursing old aches and pains from her playing days. But on occasion she'll join her daughters and husband for a little shooting at their driveway hoop in Chilliwack's Promontory neighbourhood.
"Sometimes I'll put on my old Bullet basketball shoes that I got from Woolco in the 1980s and shoot with the girls. And they laugh at my shoes!"