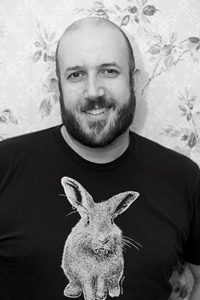 UFV is welcoming a Valley Boy back to his roots as its 2018 writer-in-residence.
Billeh Nickerson will take on the residency, which is funded by the Kuldip Gill Writing Fellowship, for the winter semester.
Nickerson is the author of five books including the 2014 City of Vancouver Book Award- nominated Artificial Cherry. He is also a former editor of PRISM international and Event — two of Canada's most respected literary journals — and a previous writer-in-residence at both Queen's University and at the Berton House in Dawson City, Yukon. He's currently co-editing Valley: A Poetry Anthology with Surrey poet laureate Renee Sarojini Saklikar. He grew up in Langley, and now resides in East Vancouver.
Each year the English department welcomes an accomplished Canadian writer to inspire students, mentor aspiring writers, and provide practical advice on publishing, while receiving dedicated time to work on their own creative projects.
During the winter semester (January to April), the writer-in-residence works with faculty and students, visiting creative writing classes, consulting one-on-one with students, and enriching the local literary community by participating in both UFV and community events.
"I am so very honoured to be UFV's upcoming writer-in-residence on the traditional and unceded territory of the Stó:lō," says Nickerson. "As someone with a long history in the Valley — I graduated from Langley Secondary School and spent much of my youth travelling around the region's curling clubs — I'm excited to once again spend time celebrating its diverse communities. When not spending my time completing a new collection of poetry, I'll be engaging with the UFV community through a series of readings, publishing workshops and one-on-one consultations."
Nickerson answered a few questions for us to further introduce himself to the UFV community.
How do you feel about being named writer-in-residence at UFV?
I am honoured to be WIR for many reasons, but particularly given that I was friends with the late Kuldip Gill whose named fellowship helps to sponsor the residency. Given that I grew up in Langley and have so many positive memories from the Valley, it feels like I've come full circle.
What do you want to achieve with our students and our community during your time with us?
I view my time as an opportunity to champion literature and not just the stuff folks learned in dreary high school classrooms, but literature from the now that reflects the many communities and voices found in the Valley.
I also hope to act as a connector to bring different groups together. I'm like the surprise dinner guest whose inclusion helps to change the conversation.
You've been a W I R before at Queen's University in Ontario and in the Yukon. How does your approach differ in this role from your regular job as a creative writing prof at Kwantlen?
During my time at the Berton House in Dawson City, Yukon, it didn't really get dark out so it wasn't uncommon to see entire families out walking around at two o'clock in the morning. I don't expect to see that at UFV! Unlike my gig at KPU, I get to focus on mentorship more than grading! I never really get to share my work with my students, so it'll be nice to do some readings at UFV as well.
How did growing up as a young gay man in the conservative Fraser Valley affect and inform your development as a writer?
I was never really out when I lived in Langley. That was a long time ago and people's attitudes have changed a lot. I had to leave the Valley to find myself. Funny, it seems all these years later I'm needing to return to figure myself out again. Hopefully, I'll be able to do some events with the campus Pride group.
Are there any public events coming up as part of your residency?
There will be a public welcome reading on Jan 30 at noon in room A225. I will also be giving a Getting it Into Print workshop on March 6 at noon, and will be presenting the keynote at the Fraser Valley Literary Festival on March 9-10.
Anything else you'd like to add?
While the residency is student-focused, I'd also like to meet some community members and UFV staff. Please feel free to reach out to me at billeh.nickerson@ufv.ca