A number of small changes are combining to transform learning at UFV thanks to special project aimed at supporting new initiatives in teaching and learning.
Teaching and learning have changed significantly and UFV is taking steps to transform physical learning environments to support this change.
The $2.5M in funding comes from two years of special funding allocations by Eric Davis, UFV Provost and Vice-President Academic.
"These investments are necessary to achieve our UFV 2025 vision — to organize our university around student learning," said Davis. "As a teaching university, we, especially, will increasingly be measured by, and expected to demonstrate, the quality of the teaching and learning practices and environment we provide."
The project team is using a collaborative approach that includes consultations with faculty and students and incorporates the latest research on learning spaces, both formal and informal.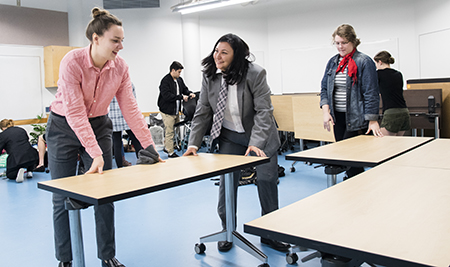 "Simply moving to tables on wheels can make a huge difference in flexibility in a classroom," notes Nicolle Bourget, project manager for the Pedagogy Investment Project, who had the challenging task of coordinating the transformation, reporting to the Teaching and Learning Centre.
Formal learning spaces such as classrooms have been revamped to encourage collaboration.  These changes include additional whiteboards and moveable furniture to enable group work, and upgraded equipment including interactive screens, upgraded projectors, and new computers. Standing height tables for longer classes allow students to move from sitting to standing during classes, which can increase attention.
Some rectangular tables have been replaced with ones shaped as a trapezoid, which gives users more flexibility in configuration when moving tables to work in groups.
"Research indicates that small targeted changes can increase learning significantly. The changes being made are expected to drive more collaboration and group work by students both within and outside of classrooms" notes Bourget.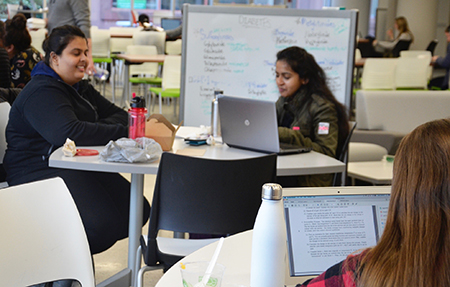 Six classrooms were reconfigured to encourage collaboration. For example, in Abbotsford, classrooms B132 and B140 were reoriented so that the seats at the back are closer to the professor and the screens.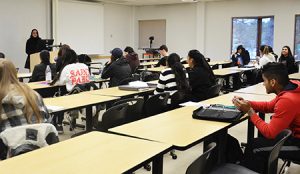 "I had taught in classrooms like those that were long and narrow with larger numbers of students. It didn't make for a good learning environment," said Maureen Wideman, Director of Teaching and Learning. "We worked with a few faculty members teaching in those rooms and decided to reorient the classroom and improve the projection technology. It has made a huge difference for faculty to be able to engage with the entire class."
Upgraded furniture with rollers allows students to easily create different collaborative groupings. Whiteboards have also been added throughout the Chilliwack and Abbotsford campuses.
"The extra whiteboards I was supplied with this term had a significant effect on the collaboration and active learning I was able to facilitate within my mathematics course," says Judy Larsen, an associate professor who teaches math in the Upgrading and University Prep department. "I am so grateful for the Pedagogical Investment Fund and the Teaching and Learning Centre for making it possible for me to develop a 'thinking classroom' for our UFV students, helping them become effective critical thinkers and responsible citizens as they transition into university programming."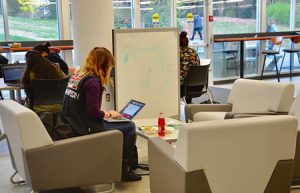 Over the summer, 30 classrooms were upgraded with new touchscreen monitors. These allow faculty to easily access class materials while removing barriers between the students and the instructor.
Audio-visual equipment has been upgraded in select classrooms to allow for interactive classes. For instance, in the dental lab,  the instructor can now easily project from the camera onto the whiteboard, make notes, save images, and email images with comments to the students.
Learning happens everywhere on campus and so improvements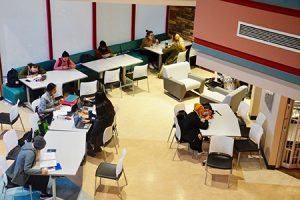 have been made outside the classroom too. The study lounge for nursing students on the Chilliwack campus was reconfigured for a more collaborative tutorial type of learning. The furniture in the upper lobby of the athletic centre, where many student athletes study and relax between practice and class, has been upgraded. And the Abbotsford Cafeteria and Spirit Bear Café have been refurnished with soft seating and collaborative working spaces.
"A significant amount of learning and collaboration takes place outside the classroom," says Bourget. "We wanted to make physical improvements to make it easier for students to work together in groups.
A portion of the project funding is to support faculty and staff in the creation, implementation and evaluation of new teaching and learning approaches, and to support the renovation and equipping of facilities that support vital work. And in keeping with the goal of innovation, eight Fund for Innovative Teaching (FIT) proposals were approved last year, receiving approximately $80,000 in funding. Read about them here.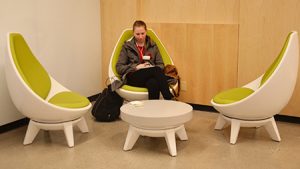 "The changes ensure that UFV is well placed to embrace the latest knowledge and technological advancements in the development of leading-edge and inclusive teaching and learning strategies that will benefit all students," said Wideman. "By the time we're done we will have touched almost every classroom."