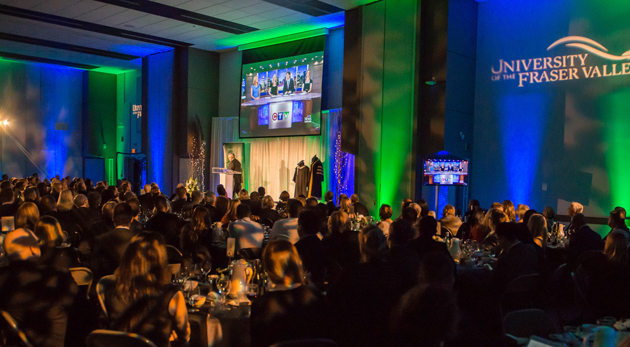 UFV will once again welcome the community to campus for the third annual Town & Gown fundraising dinner on November 15.
Events like Town and Gown give UFV the opportunity to welcome our key supporters to campus and highlight the achievements of students, faculty, and alumni.
The event on Nov 15 is sold out. Community supporters snapped up more than 250 tickets to the event, where they will hear first-hand how UFV is having a positive impact on our community and in the lives of students.
The dinner will be held in the Student Union Building, and will also feature the two UFV Distinguished Alumni Award winners and an online silent auction using the Givergy app.
Proceeds contribute to UFV's Changing Lives, Building Community Endowment — supporting scholarships for students who demonstrate superior scholastic achievement, leadership, and commitment to the community. Over the past two years, Town and Gown has raised more than $170,000 for student scholarships.
Town & Gown event highlights
Words of thanks from students who have benefited from the generous support of donors
A personal message of thanks from President Jackie Hogan
Gourmet dinner in the Student Union Building on the Abbotsford campus
Engaging conversations with influential business leaders from across the Valley
Inspirational stories of UFV's Distinguished Alumni Award Winners
Silent auction of unique items and experiences.
As the university prepares for the event, students and employees will notice that the SUB is busier than usual, and some parts will be temporarily inaccessible.
"There will be some minor inconveniences in the SUB on Nov 14 and 15, but we hope everyone keeps in mind that we present the Town & Gown evening to benefit our students through improved community outreach and inspiring our supporters and donors to keep supporting UFV and consider increasing their support," says Advancement director Sherri Magson.
Town & Gown is presented by Prospera Credit Union.

Platinum sponsors are MNP

and WestX + Xerox
Gold + sponsor
The Co-operators
Shawna Vandeven, Vandeven Financial Solutions Ltd
Justin Cathcart, Co-operators Insurance Agencies Ltd
Gold  sponsors
Media sponsors
The Abbotsford News and Chilliwack Progress
The Patrika
Silver sponsors
Aldergrove Credit Union
Emil Anderson Construction
Esposito Group
Impark
Quantum Properties
Bronze sponsors
Chernoff Thompson Architects
Manulife
RDM Lawyers LLP
Taneane Twele Photography