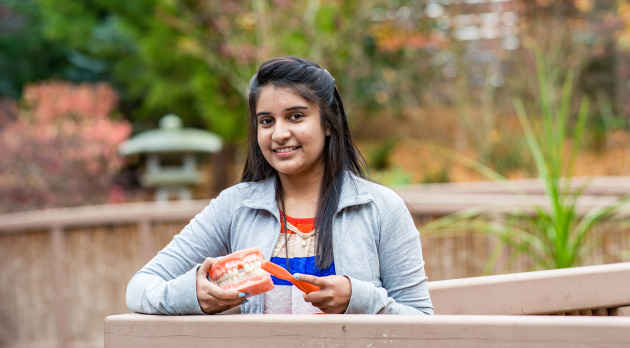 Manveer Takhar returned to Canada with one goal in mind: giving herself the chance at a better future.
She was coming home to Mission, the town she grew up in before family commitments took her to India for seven years. She was leaving Ludhiana — India's largest city north of Delhi — to live with her aunt and start a new life.
 A secure job in the dental field
Immediately, Manveer enrolled at UFV. She felt a concise, industry-focused course would let her find quality employment relatively quickly, so she began working towards a Dental Office Receptionist certificate.
"I felt this was a good route to take for a secure job," says the 18-year-old."I love it, it's good short training." The program takes place over 15 weeks, with students in class four days a week.
There's also an important practicum component for real-world experience, including 16 hours of clinical observation, plus a separate two-week administrative practicum.
During her intermediate and high school years, Manveer studied in the biology stream in India. She says she might continue within the dentistry field with an eye at becoming a dental assistant, or she could follow her dream of becoming a Canadian elementary school teacher.
Either way, the one-time West Heights elementary school student feels she's off to a solid start.
"I like the way we're taught; teachers are very attentive and show you what you need to know in many different ways," she says. "I'm confident I can find work and be an asset straight out of the program."
Dental Office Receptionist program
The Dental Office Receptionist program provides office administration skills with specialized dental knowledge, allowing students to become skilled dental office receptionists who are in demand in dental offices, dental supply companies, insurance companies, and dental labs.
Students like Manveer learn from instructors with current industry knowledge to master dental terminology, office procedures, appointment bookings, billing software, and insurance claims. The hands-on practicum prepares students to support any dental team with strong communication and administrative skills.
"It's giving me exactly what I need: you can be independent and earn your own way yourself," Manveer says. Studying at UFV's Clearbrook Centre in Abbotsford means a short commute and easy, open access. It's a long way from her dad's dairy farm back in India, but she feels she's found the perfect fit.
"I'm very happy and can't wait to see where this experience takes me."
Hands-on training
UFV Dental Office Receptionist certificate instructor Brenda Molnar says the program's hands-on training is what sets it apart.
"Dental practices in the Fraser Valley and Greater Vancouver area seek to hire our grads to manage the day-to-day needs of their front desk," she says.
"Employment opportunities are available in large or small general dental, specialty dental, and denture practices. Our grads are always well received."
Clinical classes teach students the terminology of oral anatomy, dental hygiene, tooth names and numbers, dental treatment procedures, basic radiography knowledge, and infection control. The administrative classes include information about communication, critical thinking skills, conflict resolution, personality differences, and office systems. Computer classes include hands-on experiences using dental software to manage patient files, submit pre-authorizations to insurance companies, estimate dental treatment options, and schedule appointments.
The UFV Dental Office Receptionist program is taught by instructors with in-depth experience in the dental community including certified dental assisting, treatment coordinating, dental office management, and dental consulting. The program instructor annually reviews the needs and expectations of employers to ensure the course content is updated and relevant.
For more on UFV's dental office receptionist certificate program, visit ufv.ca/DOR.