Eleanor Busse Klassen wants to help you help students on Giving Tuesday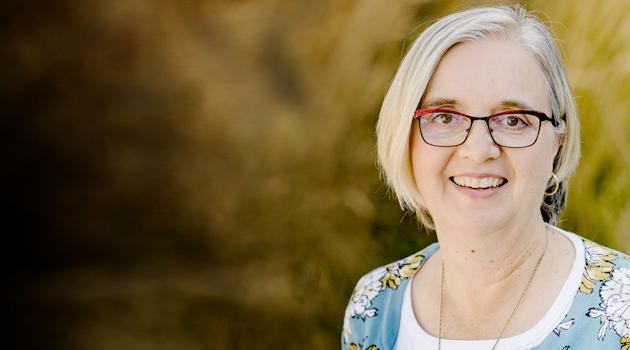 Eleanor Busse Klassen, Assistant to the Dean, Faculty of Health Sciences, is retiring from UFV after 23 years and wants to challenge others at UFV to make a special gift to support the Student Emergency Fund. Eleanor wants to create a ripple before she leaves UFV. In her words:
"I found a quote early in my UFV career that I thought captured my personal Institutional Learning Outcomes in my role at UFV and pinned it to my bulletin board. The poet Rumi wrote 'Be a LAMP, or a LIFEBOAT, or a LADDER.'
"I interpreted this to mean that by creating opportunities to explore ideas, we can be a lamp. By giving someone the education they need for their career goals, we are a ladder. We can be a lifeboat for students, by lending a sympathetic ear and a helping hand. A grocery store gift card can be a lifesaver to a student who has to choose between working to feed their family or studying for an exam.
"I have been passionate about providing emergency support to students and thought I could honour this ideal one last time before I retire. I have made the commitment to match donations of $23 to the Student Emergency Fund in recognition of my 23 years at UFV, up to $2,300. I would LOVE to have 100 people take me up on this challenge!"
So far, Eleanor's Challenge has raised more than $1,800.
Will you respond to Eleanor's Challenge with an additional contribution of $23 to the Student Emergency Fund?o More details here.
Thank you for making an impact in the lives of students and honouring our colleague, Eleanor.