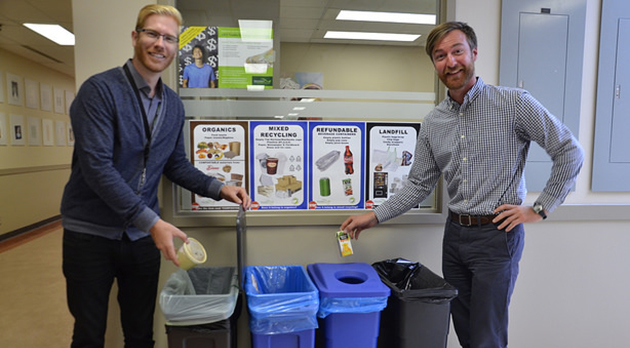 You've finished eating your lunch and are staring at the remnants: a plate and cutlery from the cafeteria, a pop can, and a banana peel.
Old you: toss it into one garbage container.
New you: approach the waste and recycle station in the hallway and figure out what goes where.
That plate and cutlery from the cafeteria? It's now compostable. (Thanks to Dana Hospitality, Fair Grounds Cafe, and Spirit Bear for working with UFV to utilize compostable packaging and materials where possible.)
The pop can? Pop it into the recycling bin.
The banana peel? Into the compost bin it goes.
Time spent sorting all this? Less than 30 seconds.
That's the kind of behaviour that Blair McFarlane, energy manager, and Travis Gingerich, sustainability coordinator assistant, want to encourage.
"Some of our compostable items, such as the cutlery or the clear serving boxes, may look like plastic, but they're not," says McFarlane. "We want people to take a couple of seconds and look for the compostable word on the packaging, and then to use the compost bin."
The multi-bin waste stations made their debut this summer and can be found in hallways all over the UFV campuses.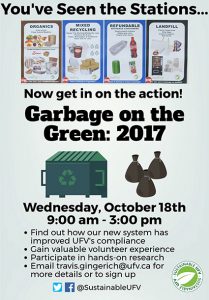 On Wed, Oct 18, Sustainable UFV will be measuring the impact of the new system with the annual waste management audit day, aka Garbage on the Green.
"In the past we've only focused on measuring how much we're sending to the landfill. Now we want to audit all four streams of waste," says Gingerich. "Our success will be measured in terms of how much we reduce what we're sending to the landfill, now that we have an easy-to-use system for recycling and composting rolled out across the campuses."
Pathways, the contractor that comes to collect refundable recycling contains such as pop cans, reports an increase in the items being recycled since the bin system was implanted.
McFarlane sends thanks to the UFV community for participating in improved waste management, and to janitorial staff for their key role in managing the waste containers, which are changed every 12 hours.