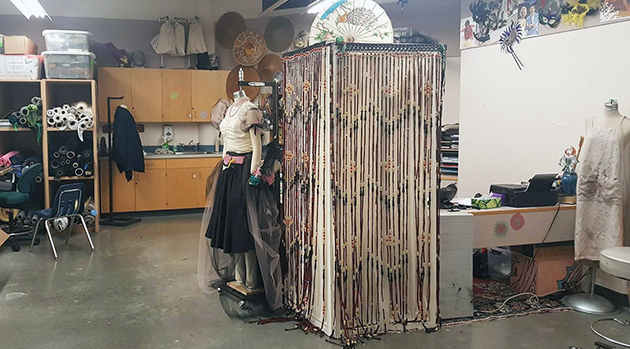 UFV Theatre has revealed In-Transit, its 2017-18 season, marking its move to its newly renovated performance space at the Abbotsford campus. This season offers a diverse selection of original, classic, and contemporary plays, featuring characters in the midst of transitions.
The Bear: A Farce in One Act by Anton Chekhov
Directed by Noel Funk
Nov 22–Dec 1
Young widow Popova, after seven months of mourning her late husband's death, receives an unexpected visit from her arrogant neighbour, Smirnov, who has come to collect an outstanding debt. The encounter quickly devolves into a battle of wits, eventually resulting in broken furniture and a single loaded gun. This refreshingly fast-paced one-act play is a farcical comment on human nature, sudden change, and strong emotions.
Wed, Nov 22 – 4:30 pm
Thurs, Nov 23 – 11:30 am
Fri, Nov 24 – 11:30 am, 4:30 pm
Wed, Nov 29 – 11:30 am
Thurs, Nov 30 – 4:30 pm
Fri, Dec 1 – 11:30am, 4:30 pm
Intimacy created and directed by Des Hale
Feb 7–9
What is intimacy? How do humans relate to each other physically and emotionally? How do these things shape our identity? Arising from the curiosity of one inspired student, Intimacy will "bare it all," presenting authentic stories and conversations that explore the relationship between intimacy, orientation, sexuality, and identity.
Problem Child by George F. Walker
Directed by Raina von Waldenburg
March 7–17
This dark comedy tells the story of Denise, a former drug addict and sex worker, and RJ, a current television addict and ex-con, as they struggle to get their baby out of the system and back into their arms. Standing in their way are a by-the-book social worker, one dramatic event, and some very bad decisions. Walker straddles the line between comedy, desperation, and anger to depict this "fiercely struggling family in a dysfunctional world."
2018 Emerging Directors' Showcase
April 2018
The Emerging Directors' Showcase is the final project presented by UFV Theatre's fourth-year directing class and is a chance for students to apply everything they have learned in the course. Audiences can expect a wide range of performances, ranging from raunchy physical comedy to thought-provoking and disturbing drama, from movement-based devised work to explorations of performance art.