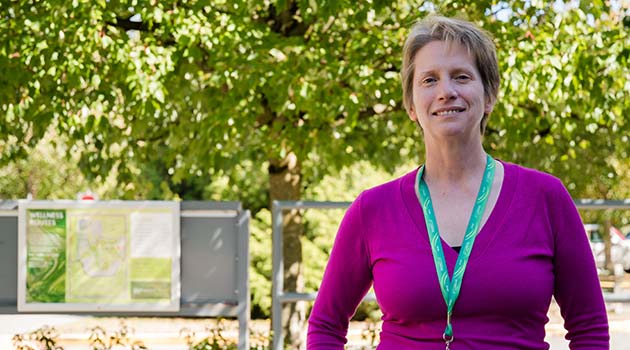 Are you a public sector professional looking for a change of pace and wanting to make a difference?
According to sociology professor Katherine Watson, you may want to add a program evaluation specialization to your area of practice.
"Program evaluators are needed to assess the relevance, sustainability, impact, and effectiveness of government programs," says Watson. "In fact, in Canada, program evaluation is a process that is mandatory for all government departments and agencies to ensure that taxpayers' money is put to good use."
Program evaluators are impartial observers who gather information systematically and make recommendations that can help programs and initiatives become more successful and cost-effective.
"It's hard to have the perspective you need to improve a project when you're closely involved," Watson notes. "An outside evaluator comes in with both the authority and credibility needed to make recommendations that can have an impact."
But trained evaluators are not a common breed. In recent years, the Auditor General of Canada reports facing a shortage of qualified evaluators, particularly at the senior levels.
"We're trying to help fill the gap with a part-time Program Evaluation graduate certificate that is delivered entirely online," Watson says. "This format is optimal for working professionals. It allows them to earn a credential without leaving their jobs."
The program consists of four courses offered over two years for a total of 15 credits. It is designed to provide students with the knowledge and skills required to evaluate projects, policies, programs, regulations, and other initiatives in order to determine their relevance, success, and cost-effectiveness.
"The program is hands-on and focuses on building competency," Watson says. "We want to train evaluators who have the practical knowledge to apply tried-and-true evaluation methods to make evidence-based judgments."
UFV's Program Evaluation graduate certificate program is recognized by the Canadian Evaluation Society and a member of the Consortium of Universities for Evaluation Education.
Graduates have to option to receive 12 credits at Royal Roads University towards earning a Master of Arts in Interdisciplinary Studies.
Payscale reports that job satisfaction among program evaluators is high. Practitioners help improve program outcomes, while also enjoying the variety afforded by working on a different project every few weeks or months.
"We're accepting applications for the Program Evaluation graduate certificate now," Watson says. "You have until October 31, 2017 to apply to start in January 2018. So if you're looking to branch out and increase your job satisfaction, this could be your chance."