Dr. Jon Thomas named UFV's BC Regional Innovation Chair in Canada-India Partnership Development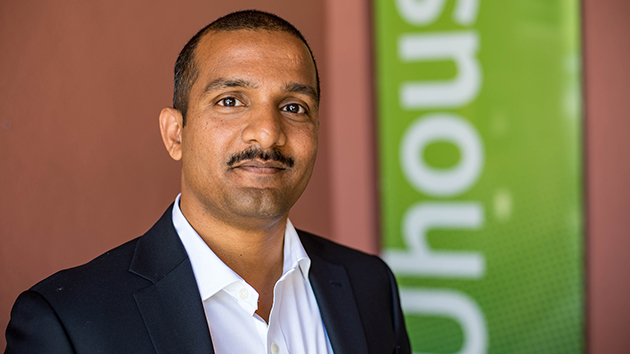 Dr. Jon Thomas has been named the new BC Regional Innovation Chair in Canada-India Partnership Development at UFV. Working out of UFV's South Asian Studies Institute, Thomas brings a wealth of international research experience to the position, which he plans on leveraging while fostering innovation and economic development throughout the Fraser Valley.
"Success in this position would include research outcomes, getting UFV students involved in applied research projects while building partnerships with leading Indian institutions, and encouraging student exchanges," he says.  "India has a large entrepreneurial ecosystem and students visiting India will have an opportunity to observe the vibrant, rapid pace of change in one of the fastest growing economies in the world,"
Thomas holds a PhD in technology management and strategy from the Indian Institute of Technology (IIT) Delhi and has done post-doctoral research in Canada at Simon Fraser University. In addition to his chair role, he also joins the faculty at UFV's School of Business. His research interests are in science and technology commercialization and innovation policy in the biotechnology, healthcare, and clean tech sectors.
Thomas is particularly interested in science-based entrepreneurship and looks forward to helping scientists transform their ideas into businesses with significant long-term societal impact.
"Ideas that work in the research lab may not necessarily scale-up, and getting to a final product can involve time periods of 15 years or more. This is a very specific problem faced by science-based ventures and my research can guide scientist-entrepreneurs in the development of their business plans, in deciding when a company should be incorporated, and how and when they may raise financing. You have to manage the process in a very systematic manner to improve the chance of success."
It's exactly that focus on success that appeals to Dr. Adrienne Chan, AVP of Research at UFV.
"We are very pleased to have Jon Thomas join us. His background in innovation and entrepreneurship will be a real asset to UFV, as well as provide an additional profile to our South Asian Studies Institute," says Chan. "Dr. Thomas will bring new knowledge and a forward way of thinking that is necessary in the world of business, education, and innovation. I hope UFV will welcome him and find opportunities to work collaboratively with him."
Satwinder Bains, director of the South Asian Studies Institute at UFV, is also excited about the strengths that Thomas will bring to UFV.
"The BC Regional Innovation Chair, which is housed at the South Asian Studies Institute, is a vital link to our ongoing, vibrant and robust relationships in India which have evolved and matured over the last 10 years. Dr. Thomas's appointment is critically important and exciting for us and our partners in India as well as the local community members who fundraised to make the chair a reality. We welcome Dr. Thomas to the position and look forward to the stimulating work of the chair under his leadership."
The provincially funded Leading Edge Endowment Fund, which is managed by the BC Innovation Council, provided $1.25 million in support to fund this research chair, which was established in 2007. Additional matching funding of $1.25 million was contributed by hundreds of individuals, companies, and organizations throughout the Fraser Valley and beyond.
Thomas began his five-year term August 1.
A badminton enthusiast, he lives in the Lower Mainland with his wife and six-year-old son.
-30-