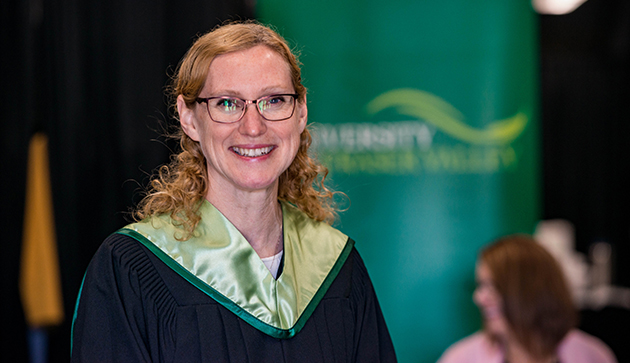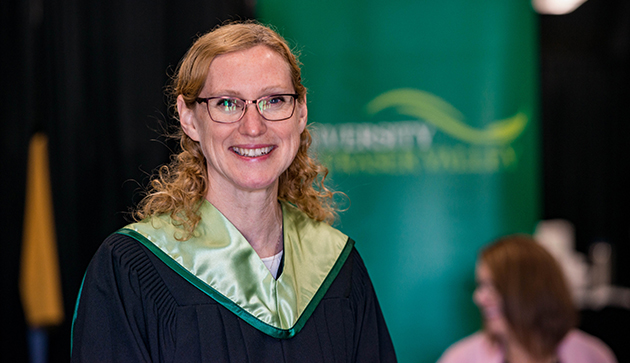 Deanna Harrison loves the challenge of learning something new.
She already holds bachelor's degrees in arts and science, and has been in the workforce for more than 25 years, most recently in the health and safety field.
But she loves learning and wanted to continue her education.
"I was looking at taking courses of interest and since I've always had a love of books and libraries, I looked at the UFV Library and Information Technology curriculum and it caught my attention."
Fast forward a few years and Harrison will be graduating from university once again, this time with her Library and Information Technology diploma.
The Library and Information Technology (LibIT) diploma program includes technical courses and computer labs that help students to develop the complex skills necessary to work in a wide range of libraries and other information centres.
Harrison's perfect 4.33 (A+) grade point average means that she'll also be taking home the Governor General's Bronze medal as the top student in a UFV diploma program.
The flexibility of the LibIT program and the ability to take most of it online on a part-time basis attracted her, as she balanced studies with work and family time.
"I liked having the ability to work and go to school that was provided with most of the courses being on-line. I felt like even though I didn't have in-class sessions, the professors were very accessible. I really liked learning how to efficiently find quality information. I think that's helpful because we have access to so much information but quantity is not necessarily quality."
As to how she earned that perfect GPA, she credits dedication and the willingness to ask for help.
"I'm actually pretty surprised about earning perfect marks and this medal. I did try to set up a dedicated schedule to work and I stuck to it. If I didn't feel like I had a grasp of the content, I tried to review it again, and I asked the professors a lot of questions!"
Harrison lives in Pitt Meadows with her husband and kids.
"I have a wonderful family and they encouraged me to go back to school. I couldn't have done this without their support. Going back to school after more than 20 years has helped me gain knowledge and confidence."